AirAsia X launches $370m share sale as it eyes expansion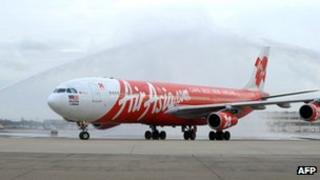 AirAsia X, the long-haul arm of Asia's biggest budget carrier AirAsia, has kicked off a share sale to raise up to $370m (£238m).
The airline plans to use the money to repay debt and to fund expansion plans.
Asia-Pacific is one of the fastest-growing and most profitable markets and airlines are keen to expand and tap into the region's potential.
Analysts said the demand for low-cost air travel in the region was likely to increase further in the coming years.
"In terms of demand, there is still room for growth as the medium and long-haul sector is not as competitive as the short-haul sector,'' said Brendan Sobie of the Centre for Asia Pacific Aviation.
Mr Sobie added that the share sale will help boost AirAsia X's plans to establish new hubs to strengthen its network.
'Tip of the iceberg'
AirAsia is one of the pioneers in low-cost air travel in Asia and has benefited from the rising travel demand in the region.
Launched in 2001, the airline now flies to 20 countries and has established itself as a key player for the area.
Driven by the success of its business model over the short-haul routes, the airline launched AirAsia X in 2007 to offer low-cost long-haul flights.
Tony Fernandes, founder of the airline, said that the listing of AirAsia X indicated that it had been a success, adding that the carrier planned to expand its operations further.
"AirAsia X's unique proposition lies in their competitive fares and early mover advantage," said Mr Fernandes.
"We are expanding our group further and this is just the tip of the iceberg,'' he added.
AirAsia has already announced a joint venture with India's Tata Group to launch a budget airline in the country.