Current account switching to be 'hassle-free'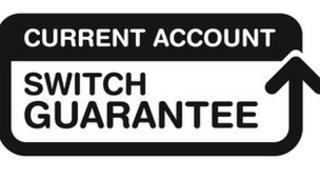 A plan to allow current account customers to switch their bank or building society within seven working days has moved a step closer.
The Payments Council said the overhaul was still on track to start in September, as it unveiled a trustmark and guarantee that will outline customers' rights.
The new system is not compulsory but all major providers have signed up.
At present, it can take up to 30 days for customers to switch banks.
The aim is for the free switching service to be quicker to allow customers more choice and, in turn, improve the service provided by banks.
It is also designed to assist new entrants to the market.
Lloyds, RBS, Barclays and HSBC now hold 75% of the current account market, which is valued at £9bn.
'Hassle-free'
Customers are already able to switch current accounts, but few actually do.
Regulators have been trying to find ways to nudge customers into doing so, including breaking down a general belief among consumers that it is problematic.
A new logo and a guarantee will be displayed by participating banks and building societies in their paperwork, explaining how the new switching service will work.
This will guarantee that the service is "simple, reliable and hassle-free", the Payments Council said. It includes promises that:
The service is free and customers can choose their switching date
The new provider will take care of switching regular payments going out, such as direct debits, and salary payments coming in
Funds in the old account will be moved on the switching day
For 13 months, payments accidently sent to the old account will be automatically redirected to the new account
If something goes wrong with the switch, any lost interest or charges that result will be refunded
"Giving customers the confidence to switch current accounts is one of our main goals," said Adrian Kamellard, chief executive of the Payments Council.
"Although the service will make life simple for customers, delivering it has involved massive systems changes both centrally and within individual financial institutions.
"This project, along with the national advertising campaign to raise awareness of the new service, represents an investment of more than £750m."
The regulator - the Office of Fair Trading - said in a recent report, that there was a "lack of dynamism" from the banks alongside customer inertia.