UK consumers set to 'loosen their belts' this year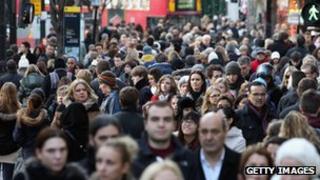 UK consumers are set to "loosen their belts" this year, according to a leading economic forecaster.
In its latest report, Ernst & Young's Item Club predicts a recovery in consumer confidence.
Increases in personal tax allowances and a recovery in the housing market are expected to boost consumer spending.
Consumer spending is set to grow by 1.2% this year before rising to 1.9% in 2014, according to the report.
The Item Club predicts that spending growth will reach 2.2% by 2015, which will be back to the level it was before the financial crisis.
Peter Spencer, chief economic adviser to the Ernst & Young Item Club, said the UK "has essentially returned to relying on the consumer to drive economic growth".
Spending on entertainment and leisure is expected to grow by 5.9% this year, as shoppers splash out on TVs, tablet computers, smartphones and package holidays.
'Elastic sectors'
Increases in personal tax allowances will sees basic rate taxpayers taking home nearly £300 extra this year.
The Item Club also noted that mortgage lenders, estate agents and property websites are reporting an increase in activity, some of which has been helped by the government's Funding for Lending scheme.
But Mr Spencer also sounded an air of caution, saying that retailers should not expect shoppers to suddenly rush out and start spending in the same way they did before the economic downturn.
The Item Club report also points out that weak employment and social benefits growth will remain constraints on consumer spending.
Much of the increase in spending will be in the "elastic" sectors, such as cars, hotels and restaurants, it said. Such spending can "snap back" at the first sign of bad economic news.
"Any hint of adverse economic developments is likely to provoke an immediate blip in spending and a retreat from the local restaurant back to meal deals and nights on the sofa," Mr Spencer said.