Second SLPL cricket season to go ahead say authorities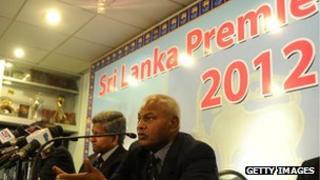 The Sri Lankan Premier League (SLPL) - which has endured a number of controversies since its inauguration - has sought to shake off confusion surrounding the launch of its second Twenty20 series later this year.
The country's sports minister, Mahindananda Aluthgamage, had been reported in Ceylon Today newspaper as saying that the tournament was in trouble as "the franchise owners are pulling out".
However, the sports ministry later put out a statement confirming that the SLPL would go ahead as planned from 10 August to 7 September.
And the newly-elected president of Sri Lanka Cricket (SLC), Jayantha Dharmadasa, has given the same assurances.
"We are yet to be informed by any franchise owner that they are pulling out, but even if one or two franchise owner pulls out it won't be difficult to find new owners," he told the BBC Sinhala service, Sandeshaya.
And the country's cricket authorities said they had done well financially from the first SLPL tournament.
"There was no financial loss to the SLC," Mr Dharmadasa told the BBC Sinhala service, adding that in fact they had made a Rs285m (£1.45m: $2.25m) profit.
"And we are still planning ahead with a view of holding the SLPL this year, too."
Each franchise currently pays an average of $4.3m per year for their team to compete.
The sports minister has told India's PTI news service that he has sought the attorney general's advice to extend the length of the lease for franchise owners from seven years to 15.
Meanwhile, the editor of popular fans' website Island Cricket, Hilal Suhaib, says the minister's initial statement and the later ministry announcement only highlight the growing uncertainty surrounding the tournament.