Online banking: "Act quickly after transfer mistakes"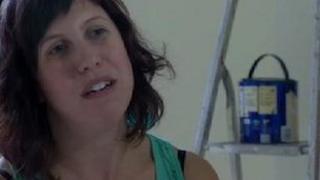 People who enter incorrect bank details when transferring money online are being urged to act quickly after making a mistake.
The Financial Ombudsman Service says the money is easier to get back if an early warning flag is raised.
But delays or grey areas of the law can make retrieving the money awkward over time.
And those who are credited with the money by accident are being encouraged to own up.
Blocked transfers
Individuals are typing in sort codes and bank account numbers more and more as they move away from cash and cheques, and use online and mobile banking instead.
The frequency may lead to more cases of mis-typed digits during these online transfers.
In many cases, the incorrect account number or sort code is not actually used by a genuine account so the transfer is invalid or blocked.
But on some occasions, it is a valid number so the intended transfer ends up in a stranger's account.
'Utterly shocked'
That was what happened to Amy Lee, a teacher from Bristol, when she mixed up two account numbers when trying to move £5,500 from her HSBC account to her own Santander account.
She had borrowed the funds from her father, to use for vital repairs at her home. She said everyone she spoke to assumed she would get the full amount back.
"I can't believe that five months later I still have not got this money back. I am just utterly shocked. I know it was a really, really silly mistake to make, but it was also a very easy one and it has cost me so much money and so much hassle," she said.
She said that she notified her bank of the mistake after a couple of days, but she claimed that it dithered allowing the unintended recipient to start spending the money.
HSBC said it had no control over the money, as it had gone to a customer of another bank. Santander said it could get some of the money back.
"Santander will reimburse the funds that were available at the point of being made aware of the error, so long as the customer who received the funds does not dispute Miss Lee's claim that the funds were intended for another account," a Santander spokesman said.
That still leaves Miss Lee out of pocket by £1,600. She intends to take the banks to the small claims court in an attempt to get the full amount back.
Legal status
The law is not clear in these cases, according to experts, which means each case tends to be dealt with on its own merits.
"There are a lot of these sorts of areas that are not clear cut. They fall between the cracks," said Ingrid Gubbay, legal consumer specialist at law firm Hausfeld and Co.
"That is why people like the Financial Ombudsman Service, who take care of customers who have problems like this, will go back to the common law principles of taking reasonable care, asking what the bank could foresee, and so on."
Many cases are dealt with informally, but customers who are not happy with how they have been dealt with by banks can take their dispute to the Financial Ombudsman Service for an independent review.
It deals with about 100 of these cases each year, known technically as mis-applied credit. This remains a fraction of the 3,838 banking gripes about specific issues that the ombudsman received last year.
Caroline Wayman, principal financial ombudsman, said: "We come in where people think the banks have not acted quickly enough or have not assisted them as much as they would have hoped in trying to recover the money."
She said that people should contact their bank as soon as they realised that a mistake had been made. This would allow the bank to protect the money to stop it being spent.
They should also keep all paperwork, a record of phone calls and letters made, and details of all the correct - and incorrect - account details.
'No free cash'
When things go wrong, there is sometimes an unintended recipient of the funds.
But Ms Wayman said anyone who thought they had been lucky with free cash should think again.
"If you do find that a strange amount of money that you are not expecting arrives in your account, then don't book the holiday, don't buy the car, I think the best thing to do is to contact your own bank," she said.
A number of adjudications by the ombudsman have shown that there is no theory of "finders, keepers".
Only in a few rulings has the ombudsman allowed recipients to keep the cash.