Centrica in shale gas stake talks with Cuadrilla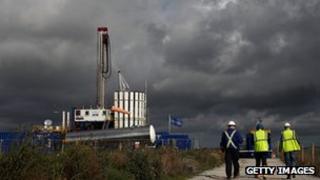 Centrica, the owner of British Gas, is in advanced talks to buy a stake in shale gas fields in northern England.
The company is talking to Cuadrilla Resources about buying a stake in its licences in the Bowland shale formation in Lancashire.
Cuadrilla is among a small number of companies exploring the UK's shale gas potential.
The company estimates that there may be as much as 200 trillion cubic feet of shale gas in its licensed areas.
The BBC understands a deal between Centrica and Cuadrilla is expected to be concluded in the coming weeks.
Centrica is not planning to take a stake in Cuadrilla itself, but rather buy the exploration rights to a part of the shale gas fields.
Through British Gas, Centrica is the largest domestic energy supplier in the UK.
The BBC's industry correspondent, John Moylan, says Centrica's investment would be a major boost for the UK's fledgling shale gas industry.
Fracking controversy
Fracking has revolutionised the energy industry in the US in recent years, driving down gas prices and boosting oil production.
Drilling companies suggest they may be sitting on vast resources of shale gas in the UK.
Earlier this week another drilling firm, IGas, said its licensed areas of Cheshire could hold up to 170 trillion cubic feet of gas.
Some industry figures suggest that may be enough to end the need for expensive gas imports.
The UK's annual gas consumption is currently about 3 trillion cubic feet.
However analysts suggest that only a small fraction of the total shale gas resources in the UK may be recoverable.
In a report published earlier this year, the Energy and Climate Change Committee also cast doubt on the value of shale gas extraction.
Although it said shale gas in the UK could help secure domestic energy supplies, it also warned that it may not bring down prices.
The gas is extracted from the shale rock through a controversial process known as "fracking" - forcing water, chemicals and sand underground to release the trapped gas.
But it has been blamed for causing earth tremors and there are environmental concerns about water contamination and the large volumes of water required.