European Commission denies IMF Greece 'mistakes' claim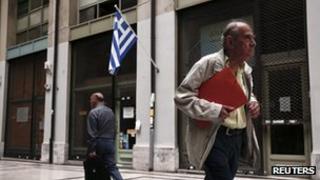 The European Commission has disputed an admission by the International Monetary Fund (IMF) that mistakes were made in the handling of Greece's bailout.
The IMF said on Wednesday that its growth forecasts for Greece had been too optimistic and debt restructuring should have been considered earlier.
But Commission spokesman Simon O'Connor said it "fundamentally disagreed" with some of the IMF's views.
Greece received bailouts from the EU and IMF worth 240bn euros (£204bn).
The IMF released a study looking at the handling of the bailout programme on Wednesday.
"The report argues that an upfront debt restructuring in 2010 would have been desirable. We fundamentally disagree," Mr O'Connor said.
"The report ignores the interconnected nature of the euro area member states. Private debt restructuring would have certainly risked systemic contagion at that stage.
"It would have also severely undermined the programme. This was the unanimous position of the member states of the euro area and, indeed, of the Troika partners at the launch of the programme."
The Troika, which monitors the bailout, includes the IMF and the Commission, as well as the European Central Bank.
In its report, the IMF admitted that it bent its own rules for the programme to go ahead.
It admitted that staff were concerned that a failure to act would result in economic problems spreading to the rest of the eurozone.