Eurotunnel blocked from Dover ferry service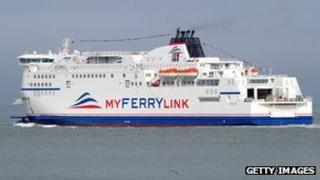 The UK Competition Commission has ruled that Eurotunnel may no longer offer ferry services from Dover.
The channel tunnel operator began operating a ferry route between Dover and Calais in August last year.
The Commission said the firm's large market share would lead to price rises for passengers and freight customers.
Eurotunnel already runs the channel rail tunnel, including the Le Shuttle Dover to Calais car rail service. It said it will contest the decision.
The company bought three ships from Sea France, which went into liquidation in November 2011, and began leasing them out last summer to the new MyFerryLink service, which is run primarily by former Sea France employees.
"By adding ferries to its existing channel tunnel business, Eurotunnel would increase its market share to over half and prices would rise," the Commission said in a statement accompanying the report.
'Virtual hypothesis'
The watchdog said Eurotunnel bought the ferries in order to make sure that a rival, DFDS/LD, could not buy them cheaply and then drive down the price of cross-channel travel.
It was also concerned that DFDS was likely to be driven off the Dover-Calais route, strengthening Eurotunnel's hand further.
Besides DFDS, which runs the DFDS Seaways and LD Lines services, the only other independent operator on the route is P&O.
"It cannot be good for competition when Eurotunnel, which already holds a market share of over 40%, moves into the ferry business," said Alasdair Smith, deputy head of the Competition Commission.
The Commission said that it would not seek to force Eurotunnel to sell off its ferries, as this would conflict with a separate ruling from the French commercial court that had blocked any such sale until 2017.
However, Eurotunnel would be given six months to find some way of divesting the boats before the Dover ban comes into force.
Eurotunnel responded that the Commission's decision was "not based on any concrete facts, but solely upon a random association of virtual hypothesis".
"This decision by the Competition Commission will reduce the choice of services across the Straits of Dover to the detriment of the consumer," said Jacques Gounon, the company's chairman and chief executive.
"It will inevitably lead to an increase in the price of a crossing."