People with electric heating 'to pay £282 more' a year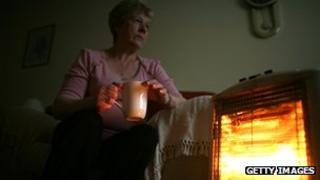 Millions of people who use electricity to heat their homes may have to pay £282 more a year by 2020, it is being claimed.
Consumer Futures, which used to be known as Consumer Focus, said that 2.1m households will lose out overall, as a result of green energy policies.
1.3m people who heat their homes electrically will be worst-hit, it said.
But the government argues that the rise in energy bills will only be temporary.
Bills
The Consumer Futures report, called "The Hardest Hit," investigates which households will have to pay more, and which will have to pay less, under forthcoming changes.
It follows government plans to decarbonise electricity generation, by raising charges on energy bills.
Policies like the Renewables Obligation and the EU Emissions Trading Scheme are paid for through electricity bills specifically.
"That means that households with electric heating will face a disproportionate share of the costs," said Adam Scorer, the director of policy at Consumer Futures.
"Many will be protected from such costs by benefits such as energy efficiency, microgeneration technology and bill discounts. But for those who are not protected, the impact on their bills will be significant," he said.
Support
The government admits that measures to improve the take-up of green energy will prove costly, but only in the short term.
The Department of Energy and Climate Change (DECC) claims that by 2020, energy bills will be £166 lower than they were in 2012.
That would be a reduction of around 11%.
Consumer Futures disputes that figure, saying that the average benefit to consumers will only be £31 by 2020.
It now wants the government to target extra support at those who use electricity to heat their homes.
"The best way of protecting these households is to provide energy efficiency measures that reduce their energy costs," said Adam Scorer.
"The Government should target support at those households most affected and least able to cope with higher costs," he said.
DECC said it would look at the report, but said it had not taken account of all the energy efficiency measures that has been installed in people's homes before 2010.
It also said there were many schemes to support customers who face higher bills.
A spokesman told the BBC:
"Households with electric heating can benefit from the Warm Home Discount, which is helping over 2 million households each year; The Green Deal, which will improve the energy efficiency of the nation's housing stock, and the Energy Company Obligation, which will put efficient boilers and insulation in thousands of homes each year, helping those who need it most."