France criticises China's anti-dumping probe into EU wine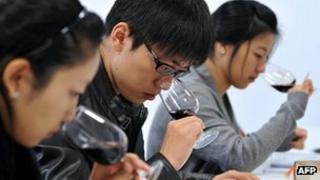 The French government has labelled a Chinese anti-dumping probe into wine imported from the European Union (EU) "inappropriate and reprehensible".
China launched the investigation a day after the EU imposed anti-dumping levies on Chinese solar panel imports.
Dumping refers to firms selling goods below their fair value, which the EU alleges China's solar panel makers have done, undermining local manufacturers.
China said it "resolutely opposes" the "unfair" levies by the EU.
Divide and rule
A French government spokesperson condemned the Chinese move and called for a meeting of all EU member states to show their solidarity on trade issues.
Germany's Economics Minister Philipp Roesler called for a negotiated solution.
"The EU must always negotiate and I think there's still the chance to quickly sit at the table and agree on a fair framework and definitely avoid a trade war that would affect many more areas than the photovoltaic sector," he told German television.
Raoul Ruparel, a European economy analyst at the Open Europe think tank, said: "There's an interesting question to be asked over why China chose this particular market for its investigation.
"China has a history of divide and rule within the EU and it has chosen a market which is focused in France and the Mediterranean - rather than Germany. This coincidentally mirrors the dividing lines which seem to be falling into place surrounding the EU's tariffs on solar panels."
Last year China was the third-biggest export market for French wines and spirits, worth 1bn euros ($1.3bn; £852m), the French winemakers' federation FEVS says.
China imported 430m litres of wine last year, more than two-thirds of it from the EU, according to Chinese customs data. Imports from France alone came to 170m litres, so France accounted for more than half of the EU exports.
Open Europe estimates that since the EU introduced reforms to the wine sector in 2008 about 2.8bn euros has been spent in EU subsidies for wine-growers. Some 42% of that went on restructuring and converting vineyards, including "grubbing up" - that is, paying growers to cut the size of their vineyards because of an oversupply of wine in the market.
In a statement, Shen Danyang, a spokesman for China's commerce ministry, said: "The Chinese government and industry have shown great sincerity and made enormous efforts in resolving the issue via dialogues and consultations.
"We hope the European side will show further sincerity and flexibility and find a solution that is acceptable to both sides via consultations."
The commerce ministry gave no immediate details about the scope or timeline of its EU wine investigation.
Ongoing dispute
China is the world's largest producer of solar panels and exported 21bn euros ($27bn; £18bn) worth of panels to the EU in 2011.
However, its success has been marred by allegations that it unfairly undercut local manufacturers.
On Tuesday, EU Trade Commissioner Karel De Gucht said the price at which the Chinese panels were sold in Europe should be 88% higher than current charges.
As a result, the European Commission unveiled anti-dumping duties on Chinese solar panel imports.
However, they were lower than originally proposed - initially averaging 11.8% - and will be phased in gradually.
Last month, the Chinese government warned the EU that it would "take necessary steps" to defend its national interests, if any duties were levied against its goods.
Observers suggested that Beijing's latest move was a direct consequence of the EU decision.
"This might represent retaliation to what happened yesterday," Davide Cucino, president of the European Union Chamber of Commerce in Beijing, told the BBC.
"There is no interest for both actors to play the protectionism card, and frankly speaking retaliation represents a missed opportunity for China to provide the necessary evidence… in order to carry out a resolution to the photovoltaic case."
However, Mr Cucino added that the decision by the EU to impose only a portion of the duties "leaves space for a negotiation that might bring good results within a couple of months, with no effects to the two parties".