Australia's economic growth rate misses forecasts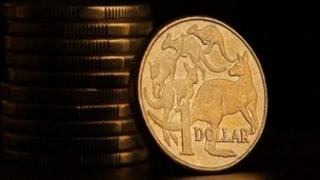 Australia's growth was lower than forecast in the first three months of the year, as a dip in investment offset gains in exports and consumer spending.
The economy expanded at an annual rate of 2.5% in the January to March quarter. Compared with the previous three months, growth was 0.6%.
Most analysts had forecast an annual growth rate of closer to 2.7%.
Some analysts said that the weaker than expected data was likely to increase calls for a cut in interest rates.
"These are definitely disappointing numbers and there is surely going to be added pressure on the Reserve Bank of Australia to take steps to revive growth," Michael McCarthy of CMC Markets told the BBC.
On Tuesday, the Australian central bank left its benchmark rate unchanged at a record low of 2.75%.
'The big question'
Australia's economy has enjoyed robust growth in recent years, powered mainly by demand for its natural resources such as iron ore.
However, demand for these resources has declined in recent times amid a slowdown in key markets such as China, leading to a drop in the sector's growth.
At the same time, non-mining sectors in Australia have not performed that well. That has led to concerns about a so-called two-paced economy.
The fear among analysts has been that as growth in its mining sector slows, Australia's economic growth rate may be hurt.
To make matters worse, a stubbornly high Australian currency has hurt key sectors such as manufacturing and tourism.
Analysts said that given the situation, Australia's growth rate was likely to remain subdued for some time.
"The theme of sub-trend growth looks like extending for the rest of the year and longer," said Su-Lin Ong, a senior economist at RBC Capital Markets. "
"The transition from mining is the big question, and it's just not clear what will step up to drive growth."