Is it year zero for the UK deficit debate?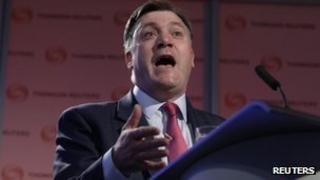 It's no good crying over lost growth, and Labour is not going to win the economic argument by constantly harking back to the summer of 2010. That is a key message you can take from Ed Balls' big speech on the economy this week.
Commentators have understandably jumped on his admission that Labour will have to squeeze spending too, if it wins back Number 10 in the next few years. There was also that symbolically important gesture, about taxing winter fuel payments going to better-off pensioners.
But the biggest lesson is that the great rhetorical debate between Labour and the government - the battle over "growth versus austerity" - has had its day. The country has moved on. And like it or not, so has the shadow chancellor.
Room for debate
That does not mean that all the questions about growth and austerity have been answered. As the International Monetary Fund (IMF) said the other day, the foundations for growth are not yet firmly in place. There's still room for lively debate about how best to secure the recovery.
Nor does it necessarily mean that George Osborne was right all along - and Ed Balls was wrong. In fact a disinterested observer might look at what the two of them were saying in the summer of 2010 and conclude precisely the opposite.
That observer would note that George Osborne has failed to achieve either of the key objectives he set himself - to eliminate the structural hole in the deficit and have the stock of debt falling as a share of GDP by the end of the parliament.
Debt will still be rising as a share of the economy in 2015, and the deficit in that year is now forecast to be about £70bn higher than originally planned. Borrowing is barely going to fall at all, now, until 2014-15. Instead of growing by 6% since the summer of 2010, as Mr Osborne hoped, the economy has barely grown at all.
Ed Balls could have decided, a while ago, to declare victory and call this Plan B. I suggested as much to him, on the BBC's Budget programme, minutes after the chancellor had delivered his speech in March.
'Killer' question
I asked him, if Mr Osborne was borrowing and spending so much more than planned, didn't that mean he was doing exactly what Labour had suggested? How could he berate him for that, while still claiming the chancellor was cutting too far, too fast?
Afterwards I got quite a lot of emails and twitter messages, applauding my "killer" line of questioning. (Also some from Labour sympathisers accusing me of "picking on" the shadow chancellor... poor thing.)
In fact, there was a respectable economic answer to my question, which is that being forced to borrow more, as a result of a flat economy, is not the same thing as choosing to borrow more, to prevent that flat economy, in advance.
In theory, a more 'Keynesian" government in 2010 might have set out to use those extra billions to invest in infrastructure and done more for jobs and the economy - without borrowing a lot more than George Osborne now has. (That is what the IMF means when it talks about the "fiscal multipliers" being much larger than they initially thought.)
But this was not really the reply Ed Balls gave on Budget day. And it is not an argument that Labour have managed to get across to voters, for two very good reasons.
The first is that most people are inherently sceptical of the idea that you solve a debt crisis by borrowing even more, whatever economists might say on the subject.
David Cameron has been happy to exploit that scepticism in countless speeches, even as his government continues to borrow more than Keynes would ever have imagined.
The second reason why Mr Balls has not been able to claim victory for his alternative strategy is that he never really offered it.
Pseudo debate
Former Labour Chancellor Alistair Darling was going to slash capital investment too from 2010 onwards. Ed Balls distanced himself from Darling's plan and came up with his "five point plan." But in the scale of things, that was not so very different from what we already had.
A determined Keynesian effort to double public investment, cut taxes and go all out for growth - along the lines suggested by the likes of Paul Krugman - was simply never on the table.
Maybe America shows us that there was a better alternative out there. Maybe it doesn't. The problem for Ed Balls is that people never really believed he was offering one. And now they no longer care (if they ever did).
Modest growth between now and the election will not prove George Osborne right. But it will make the battle over 2010 look less and less relevant to the concerns of ordinary voters. Ed Balls' speech is a reflection of that basic reality.
The sheer scale of the deficit means that it will dominate British politics for years to come. But something tells me the pseudo debate between Labour and the coalition over "growth versus austerity" will not.