Blacklisted welder Dirk McPherson 'was labelled agitator'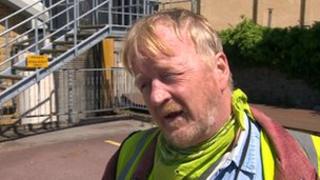 A welder said it was "soul destroying" to be labelled an agitator and find his name added to an employment blacklist.
Dirk McPherson, from Redhill, Surrey is among 70 construction workers seeking compensation in a High Court claim lodged by the GMB union.
He believes he lost work after raising safety issues with his employer on a site in Kent, 13 years ago.
In 2009, the Information Commissioner's Office revealed more than 3,000 people's names were on the blacklist.
Mr McPherson was on a database of 3,213 names of construction workers and environmental activists, used by 44 companies, which was seized by the ICO.
The blacklist was drawn up by the Consulting Association, which has since been closed down.
Mr McPherson has been a welder for more than 40 years but has struggled to find work for the last 13.
Blacklist 'incredibly secret'
He believes he was blacklisted after he complained about a lack of safety equipment, while working for a sub-contractor at the Pfizer site in Sandwich.
"If me and five other workers have started on a job where there is say 18 months work ahead of you, all of a sudden after two weeks I am no longer required but the other welders are still there," he said.
"Or conversely, you phone up for a job on the Wednesday - they say can you start Monday, then all of a sudden on the Friday you get a phone call saying the job's been cancelled.
"When you apply for jobs with welders that are perhaps not as good as you and they are earning money and you are sitting indoors skint, it is not a great deal of fun."
The GMB says it is acting on behalf of workers whose job prospects and reputations were ruined.
"The blacklist operated in an incredibly secret fashion," said GMB spokesman, Justin Bowden.
"Some of the biggest household names in the construction industry paid a subscription annually to the Consulting Association to be members."