Blacklisted construction workers seek compensation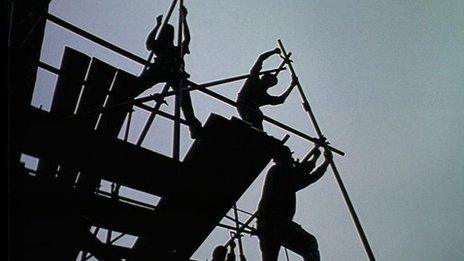 The GMB is to lodge claims in the High Court for compensation on behalf of 70 construction workers whose names were discovered on a blacklist.
The union says the workers had job prospects and reputations ruined, and is taking legal action on their behalf, including lodging claims of defamation.
It says the initial claims are "the tip of the iceberg" and that there are some 3,000 other workers with claims.
Blacklisting was revealed in 2009 by the Information Commissioner's Office.
The ICO seized a database then, of 3,213 names of construction workers and environmental activists used by 44 companies.
The blacklist was drawn up by the Consulting Association, which has since been closed down.
The GMB claims that the 70 members were "blacklisted by Carillion and other construction employers".
But a spokesman for the firm said: "Carillion has not received any communication at all from the GMB or its solicitors in respect of any proposed litigation so we are a little surprised at their latest press release.
"Any Carillion involvement with the Consulting Association referencing service ended by 2004. This was long before the practice became unlawful. As you would expect, Carillion will defend itself vigorously in any litigation."
The GMB says that those on the Consulting Association list were mainly active trade union leaders on construction sites, and said "many of them are now nearing retirement age with no pension arrangements".
The legal action is on behalf of workers from across the UK, including Aberdeen, Barnsley, Leeds, Leicester, Liverpool, Glasgow, Newcastle, Stoke-on-Trent, Nottingham, Oxford, Southampton and Swansea.
"GMB is pleased to be the first union to bring this wide-ranging High Court action on behalf of our members," said Maria Ludkin, the GMB's legal officer.
She added: "The ICO needs to start acting like a serious regulator and let these victims know so that they can join this claim for damages."
Michael Newman, from law firm Leigh Day, which is involved in the legal case, said: "Workers are only now finding out about this scandalous practice, and are rightly outraged."
Related Internet Links
The BBC is not responsible for the content of external sites.