US targets Iranian currency with fresh sanctions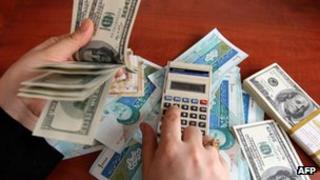 The US has unveiled fresh sanctions against Iran, targeting its currency, as it increases the pressure on Tehran to abandon its nuclear programme.
These include penalties on anyone facilitating "significant" transactions in the rial or holding significant amounts of the currency outside Iran.
A US official said the move would force institutions to dump rial holdings and weaken the currency further.
This is the first time the US has directly targeted the Iranian currency.
"This promises to make Iran's weak currency, even weaker and more volatile," the US official was quoted as saying.
"The idea here is to make the rial essentially unusable outside of Iran."
The Iranian currency has fallen significantly against the US dollar over the past couple of years, hurt by a slew of sanctions against Tehran's key sectors.
'Serious escalation'
This is the ninth set of sanctions that President Barack Obama's administration has imposed against Iran.
The latest ones also include sanctions targeted at Iran's automobile sector, one of the key employers and contributors to Iran's economy.
The US has banned the sale or transfer of goods or services to be used in Iran's automobile manufacturers.
"It's a serious escalation of sanctions because the administration is blacklisting the auto sector which is the second largest employer in Iran after the energy sector," said Mark Dubowitz, of the Foundation for Defense of Democracies.
Mr Dubowitz added that the move against the auto sector indicated that the US was concerned it could be used to procure "dual use" technologies such as parts for centrifuges which are involved in the uranium enrichment process.
Meanwhile, White House spokesman Jay Carney said that while the US had been increasing its pressure on Iran, it was still open to a "diplomatic solution that allows Iran to rejoin the community of nations if they meet their obligations".
"However, Iran must understand that time is not unlimited," he said.
"If the Iranian government continues down its current path, there should be no doubt that the United States and our partners will continue to impose increasing consequences."