Japan consumer prices fall 0.4% in April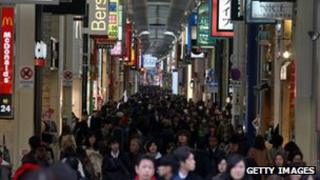 Japan's consumer prices fell by 0.4% year-on-year in April, the sixth straight month of declines.
The world's third largest economy has experienced years of deflation, and its central bank currently has a 2% inflation target.
The core consumer price index figure, which includes oil products but excludes volatile prices of fresh food, followed a 0.5% drop in March.
And the jobless rate stayed at 4.1% in April, the lowest since November 2008.
On inflation, Prime Minister Shinzo Abe aims to pull Japan out of 15 years of deflation with active government spending.
He argues his move will ignite the economy and eventually lead to higher pay for workers.
The Bank of Japan governor Haruhiko Kuroda has pledged to achieve a 2% inflation target in two years.
Meanwhile, core consumer prices in Tokyo, which are released a month before the nationwide data, were up 0.1% in May compared with a year earlier.