US GDP growth revised down slightly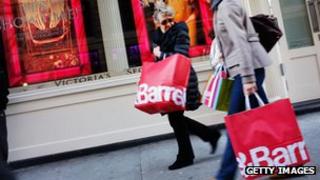 The US economy grew at an annualised rate of 2.4% in the first three months of the year, figures from the Commerce Department show.
The figure is slightly slower than the 2.5% rate originally estimated for the quarter.
Consumer spending was stronger than first thought, but businesses bought less and some government spending cuts were deeper than previously estimated.
Economists widely expect growth to slow again in the next three months.
That is in part due to the expected impact of federal spending cuts, but also of the continuing weakness in the global economy.
On Wednesday, the Organisation for Economic Co-operation and Development (OECD) downgraded its forecasts for global growth to 3.1% this year and 4% in 2014.
In particular, major US trading partners such as the eurozone are predicted to remain in recession this year.
Growth pick-up
By comparison, the US has recovered relatively strongly from the global economic downturn.
The 2.4% annualised growth figure describes how much the economy would grow by if the growth seen in the quarter was maintained across the year.
It is the strongest rate of growth since the end of 2011, and much higher than the 0.4% annualised rate recorded in the last quarter of 2012.
In quarter-on-quarter terms - the measure by which most other countries measure GDP growth - the US grew by 0.6% between January and March.
In contrast, the eurozone economy contracted by 0.2% over the same period.
Consumer spending accounts for about 70% of US GDP. Consumers may have been emboldened by improvements in the jobs market, given that employers have added an average of more than 200,000 jobs a month since November.
There are also increasing signs of a recovery in the housing market.
The Commerce Department said the "general picture of overall economic activity is not greatly changed".
Ellen Zentner, an analyst at Nomura Securities International, said government spending cuts were weighing on the economy.
"The [first quarter] GDP data continue to paint the picture of an economy with strengthening fundamentals that is facing significant fiscal drag," she said.
In March, the government was forced to trim $85bn (£56bn) from public spending this year as a result of the sequester - a deal on spending cuts that was reached between Democrat and Republican politicians.