Lloyds sells international private banking arm to UBP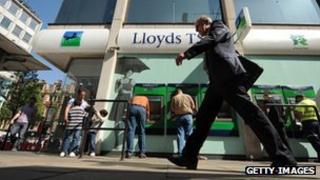 Lloyds Banking Group is to sell its international private banking arm to Swiss wealth management specialist Union Bancaire Privee (UBP).
Under the deal, Lloyds will get £100m ($150m), with £65m paid initially and the balance paid within two years.
The private banking arm has assets under management of around £7.2bn.
Lloyds Banking Group is 39% owned by the British taxpayer, after it received a £20.5bn bailout from the UK government back in 2008.
UBP, which has private and institutional clients, is headquartered in Geneva but has offices in more than 20 locations around the world.
It has been on a shopping spree in recent years in an effort to rebuild its asset base, which was hit during the financial crisis that began in 2007.
UBP's recent acquisitions include the private banking arm of the Dutch group ABN Amro and the Paris-based asset manager Nexar.
UK focus
Lloyds also said it had decided to withdraw from South Africa and close its offices in Dubai, as part of plans to reduce its international operations.
Under pressure from politicians and regulators, Lloyds is focusing its business on lending to UK households and businesses.
While UBP has been on a shopping spree, Lloyds has been looking to sell many of its assets to boost capital.
Last week it raised £450m from the sale of a 15% stake in the wealth manager St James's Place.
Following the 2008 bailout, Lloyds shares were in a prolonged slump.
But its stock recently hit a price that would allow the government to break even on its investment.