Bayern Munich 'most valuable football brand'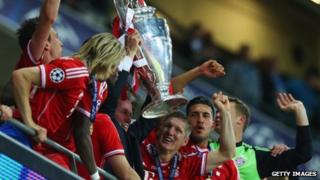 Bayern Munich has overtaken Manchester United to become the world's most valuable football brand, a branding agency has said.
Bayern's brand is now worth $860m (£570m), according to Brand Finance, pushing United into second place.
Bayern's status as European champions has given them access to a wider global audience, the agency said.
But it added that Germany's Bundesliga was still second to the Premier League in brand value terms.
Premier League club brands have a combined value of $3.1bn, the research suggested, well ahead of the $1.9bn combined value of Bundesliga teams.
Spanish giants Real Madrid and Barcelona were third and fourth in the rankings, followed by the Premier League's Chelsea, Arsenal, Liverpool and Manchester City.
Milan is the highest placed Italian club, at number 10.
David Haigh, the chief executive of Brand Finance, said that despite the emergence of Bayern, there remained a deep divide between the way the Premier League and Bundesliga are run.
"The commercial transformation of the English game, which has created hugely successful global brands, had been seen as the model to emulate," he said.
"However the escalation of player wages, poor financial management and alienation of grass roots fans has left many people jaded.
"In contrast the cheap tickets, high attendances, democratic ownership structure and financial prudence of the Bundesliga now looks like an attractive alternative, particularly now it is delivering world-beating, fluid football rather than the more workmanlike style German teams had been known for."