German unemployment rises in May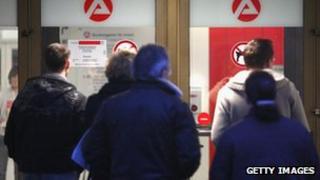 Unemployment in Germany rose during May, according to the latest set of official figures.
The country's Labour Office said that, on a seasonally adjusted basis, the number of people out of work increased by around 21,000 to 2.963 million, well above analysts' expectations.
Bad weather and a relatively high number of public holidays are being blamed for the increase.
However, the jobless rate remained unchanged at 6.9%.
Labour office chief Frank-Juergen Weise insisted that the German job market was "fundamentally sound and is developing solidly in a difficult economic environment".
Analysts said that while the long, harsh winter was a factor, employers were also still cautious, following concerns about the economic situation in Italy and Cyprus.
ING DiBa economist Carsten Brzeski said: "It is far too premature to start singing swan songs on the labour market."
Natixis economist Paul Beaumont said he was confident that the German labour market would continue to remain reasonably resilient in the face of subdued economic conditions.
"All in all, we expect the German unemployment rate to remain close to a post-reunification low at 6.9% in 2013," he said.
Pay rises
Last week, a survey showed that staffing levels fell across the private sector in May, the first time that has happened since January.
Several major German companies are cutting costs and jobs, including steel distributor Kloeckner and chemicals giant BASF.
Nonetheless, many German workers have been able to secure themselves hefty pay rises, which the government is hoping will boost domestic demand.
Germany is weathering the eurozone's debt storm far better than many of its peers, such as Spain and Greece, where unemployment runs at more than 25%.
Analysts say that Chancellor Angela Merkel will be looking to keep unemployment below three million in the run up to a federal election in September, in which she is hoping to clinch a third term in office.