Tenants' deposits must be safe, says Shelter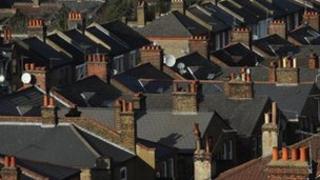 A housing charity is urging tenants to check that their deposits are held in an official protection scheme.
Shelter said that a survey of 4,000 tenants suggested that almost one in 10 knew that their deposit was not ring-fenced as it should be by law.
Landlords must put new tenants' deposits in a government-backed scheme within 30 days of receipt.
The new law was brought in a year ago, to ensure that the money is safe if landlords go bust.
It also aims to prevent landlords just taking the money if there is a dispute over damage to the property when a tenant moves out.
"We campaigned for this change in the law to stop renters from losing money in unfair deposit deductions, so it is extremely worrying that so many are still unaware of their tenancy deposit rights," said Campbell Robb, chief executive of Shelter.
"We know that most landlords do the right thing but unfortunately some are still unaware of their responsibilities to protect the deposits that are given to them in good faith."
'Vital protection'
According to Shelter, the average deposit paid is £992.
Seven million deposits have been placed in protection schemes.
Any landlord that fails to keep to the law faces court proceedings, and a potential penalty of between one and three times the value of the deposit, which is awarded to the tenant.
Housing Minister Mark Prisk said: "Tenancy deposit schemes offer vital protection for both tenants and landlords, giving them financial peace of mind and offering neutral help to resolve disputes.
"There is always more to do to ensure that people know, and exercise their rights."