Wal-Mart fined for dumping hazardous waste in US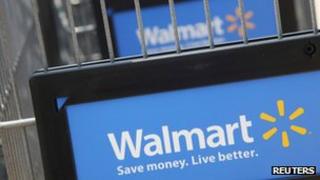 Wal-Mart has agreed to pay $82m (£54m) in civil and criminal charges after pleading guilty to dumping hazardous waste in California and Missouri.
The retailer admitted to violating environmental regulations after illegally disposing of fertiliser, pesticides and bleach.
Prosecutors said employees had not been properly trained and had poured waste down drains or tossed into trash bins.
In 2010 the firm was fined some $29m to settle similar charges in both states.
"By improperly handling hazardous waste, pesticides and other materials in violation of federal laws, Wal-Mart put the public and the environment at risk and gained an unfair economic advantage over other companies,'' said Ignacia Moreno, assistant attorney general for the Environment and Natural Resources Division of the Justice Department.
Wal-Mart pleaded guilty to six counts of violating the Clean Water Act in California between 2003-2005 by illegally discarding the hazardous products at its stores.
It also pleaded guilty in Missouri for violating the Federal Insecticide, Fungicide and Rodenticide Act (FIFRA) by improperly handling pesticides that had been returned by customers, the Justice Department said in a statement.
Wal-Mart said it was "pleased" to have resolved the issue.
"The incidents on which the charges are based occurred years ago and involved the transportation and disposal of common consumer products," the retailer said in a statement.
"No specific environmental impact has been alleged and since then, Wal-Mart designed and implemented comprehensive environmental programs that remain in place today."
Wal-Mart says it has reduced hazardous waste by more than 30% since 2010 when it overhauled its hazardous waste compliance programme.