French consumer confidence falls sharply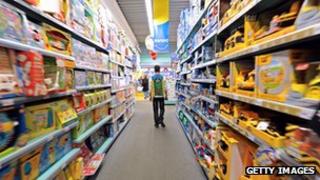 Confidence among French consumers has hit its lowest level since July 2008, a survey has indicated.
Consumer confidence fell sharply in May, with the French statistics agency, Insee, saying its monthly consumer morale index dropped by four points to 79, after losing two points in March.
The figure is well below the long-term average of 100.
The survey also showed that French households think the unemployment rate, now at 11%, will continue to rise.
Earlier this month, France passed a range of measures aimed at stopping the rise in unemployment by reforming the country's labour laws.
These include measures to make it easier for workers to change jobs and for companies to fire employees.
Two weeks ago, on the first anniversary of Francois Hollande being sworn in as president, official figures showed the country had fallen into recession for the second time in four years.
France's economic woes are by no means unique among its European partners. The 17-nation eurozone remains mired in recession, with its economy having contracted for six quarters in a row.
The economy of the eurozone shrank by 0.2% in the January to March period, according to the EU's statistics office Eurostat, with nine of its members now in recession.