Payday lenders out of control, says Citizens Advice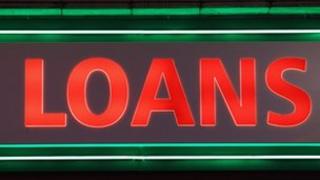 The payday loan industry is "out of control", a charity has said, following claims of irresponsible lending and harassment.
Citizens Advice claimed that loans were given to people aged under 18, to those with mental health issues, and to individuals who were drunk at the time.
It called on the regulator to ban irresponsible lenders.
The Consumer Finance Association (CFA), which represents lenders, said it had an independent code of conduct.
It said it was keen for the industry to be rid of any rogue operators.
Investigation
Payday loans have increased in popularity over recent years, partly as banks draw back on lending.
Typically, someone will borrow a few hundred pounds from a payday loan firm for a short time, to tide them over until they receive their next wage or salary cheque.
However, a report by the regulator - the Office of Fair Trading - revealed "widespread irresponsible lending" in the industry.
It gave the biggest 50 firms 12 weeks to change their practices or risk losing their licences.
It has been writing to lenders, telling them where to improve, and is considering whether to refer the market to the Competition Commission to study how payday loan companies compete.
'Ballooning debts'
Citizens Advice analysed 780 cases and said it had found evidence of lenders chasing the wrong people for debts, taking more than they were owed, and taking regular repayments from those who were struggling to pay.
The charity also claimed that lenders were pestering those in debt and were failing to offer reasonable repayment plans.
"The payday loan industry is out of control and is acting as a law unto itself. It has showed a complete disregard for its customers," said Gillian Guy, the charity's chief executive.
"Many have been driven into debt by irresponsible lending and their debts ballooned as lenders put pressure on them to extend the loans.
"The OFT has an opportunity to wipe out the distress caused by this industry and make sure it is transformed into a responsible short-term credit market. It is vital that, following the investigation, the OFT takes swift action to protect consumers from the harm caused by these unscrupulous lenders."
It called on High Street banks to offer micro-loans as an alternative to payday loans.
The StepChange debt charity said that the sector needed to ensure that vulnerable customers did not use payday loans as an option of last resort if they were in financial difficulties.