Dreamliner: Japan's ANA restarts 787 flights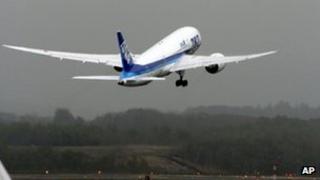 Japan's All Nippon Airways has resumed commercial flights of the Boeing 787 Dreamliner for the first time since the planes were grounded over safety fears.
The first flight landed at Tokyo's Haneda airport on Sunday evening, local time, after a short flight from Sapporo in northern Japan.
Other airlines have already resumed 787 flights, but ANA is Boeing's biggest Dreamliner customer, with 17 planes.
An overheating battery on an ANA flight led 787s being grounded in January.
It followed a separate battery-related emergency on a Japan Airlines flight.
The planes have since been modified with new battery systems and have been given approval to fly again by the US Federal Aviation Authority.
Sunday's Dreamliner flight was the first of five scheduled by ANA in May, before the airline restarts a full commercial schedule on 1 June.
It ran its first test flights in late April.
ANA operates more than a third of all Dreamliners currently in service, and has another 36 on order.
In a statement issued on Friday, Osamu Shinobe, ANA's chief executive, said the airline remained committed to the aircraft.
"The safety of passengers is our number one priority. Modifications for all 787 have been implemented and ANA has undertaken its own additional testing," he said.
"The 787 remains a game-changing aircraft, important from an environmental, efficiency and passenger comfort perspective."