Low rates fail to deter savers, banks say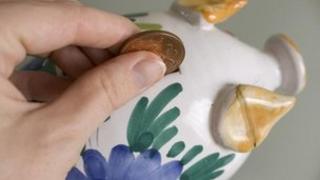 A lack of confidence among consumers has pushed up savings levels in the last year, despite the low rates of interest available, banks say.
Personal deposits with the UK's major banks rose by 5.5% in the year to the end of April, data from the British Bankers' Association (BBA) showed.
This was despite many savings accounts featuring rates as low as 0.1% after tax.
Consumers' safety-first approach also meant demand for credit was low.
Repayments outstripped new borrowing on unsecured loans and overdrafts by 6.7% in the year, the BBA figures showed.
"Low consumer confidence is depressing demand for new borrowing and consumers are continuing to save," said David Dooks, BBA statistics director.
Plastic still rising
There is £721bn in savings deposited with the UK's major banks, following a £1.4bn net addition in April.
This total level of saving is still below the £779bn outstanding in mortgage borrowing with the major banks. This level dropped slightly in the year to the end of April.
The BBA said that mortgage borrowing was remaining steady, because of the various government schemes that were propping up the home loan market.
Credit card borrowing rose by 5.8% over the year, a rise which the BBA said was "masked" by the contraction in other forms of unsecured borrowing.
Inflation pain
The Bank rate, set by the Bank of England, has been at a record low of 0.5% for more than four years. Meanwhile, the cost of living, measured by the Consumer Prices Index (CPI) measure of inflation, stood at 2.4% in April. The Bank's target is inflation of 2%.
Only one "regular" savings account and only six tax-free Individual Savings Accounts (Isas) offer interest that beat the inflation rate, recent research by financial information service Moneyfacts found.
It said that £10,000 invested in an average savings account five years ago, and facing a 20% tax rate, would be worth £8,861 to spend now.
"The pound in the savings account is still being savaged by stagnant returns and above-target inflation," said Sylvia Waycot, of Moneyfacts.
Simon Rose, of the pressure group Save Our Savers, said: "Saving is now a return-free risk."
He said that many people were nervous, so were happy to save, even though rates were low. He said the elderly, especially, could not afford to take on other risks.
He encouraged savers to shop around for accounts offering the best rates and warned that the situation was unlikely to change for some time.