SSE profits up after cold weather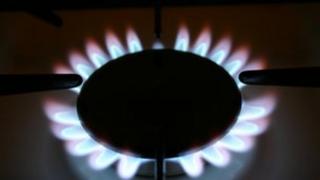 Energy supplier SSE has reported a rise in annual profits on the back of cold weather, despite recent disruption to services and a fine from regulators.
The company reported adjusted pre-tax profits of £1.4bn for the 12 months to the end of March, up 5.6% on last year.
Cold weather meant average UK household gas consumption rose. But snow and ice also disrupted services in March.
SSE also received a record £10.5m fine from regulator Ofgem for misleading potential customers.
The company also expects to pay out a further £1.5m in compensation to affected customers.
'Unprecedented damage'
SSE's chairman, Lord Smith of Kelvin, said the company had faced "two of the biggest issues" in its history in recent months.
"In consecutive weeks in the early spring of 2013, SSE confronted two of the biggest issues it has had to face since it was formed in 1998," he said.
"The last week of March saw extreme snow falls and ice in the west of Scotland which inflicted unprecedented damage on the electricity network on Arran and Kintyre. Over 500 engineers and other employees from the company were deployed to help restore electricity supplies."
But more broadly the cold weather helped to boost energy usage.
The company said average UK household gas consumption was up 21% over the year, while electricity consumption was up 5%.
Operating profits at its retail operations were up 27,5% to £410m as a result, despite a fall in the number of energy customer accounts SSE handles in the UK and Ireland.
SSE now has 9.47 million customers, down 80,000 on a year ago.
'Price competitiveness'
SSE said: "Unless there is a sustained reduction in prices in wholesale gas and electricity markets, it is highly likely that these additional costs will eventually have to be reflected in higher prices for household customers.
"Nevertheless, SSE intends to resist this trend of higher costs for as long as possible to shield customers from the unwelcome impact of higher prices."
Last week, Centrica, the owner of British Gas, announced that it had seen UK residential gas usage increase by 18% in the first four months of 2013 due to the prolonged cold weather.
Centrica said that "recognising the economic pressures facing many of our customers, the board has determined that any benefit arising from the exceptionally cold weather will be used to maintain our price competitiveness".
Ann Robinson, from comparison website uSwitch, said on Wednesday: "Suppliers have benefitted from the extended and unseasonal cold snap this year. While British Gas has pledged to use this benefit to maintain its price competitiveness, there has been no such pledge from other suppliers.
"This is very disappointing and we would urge SSE, with its profits announced today, to take the lead in helping consumers by making a firm new commitment on prices."