From thought to profit: How ideas become viable businesses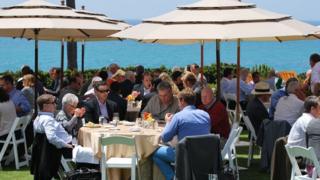 Timothy Mitchell is excited. The 27-year-old eccentric genius says he's cracked artificial intelligence (AI).
His computer code and programs actually have the ability to learn. They also have the ability to make him a great deal of money.
It is an idea that could revolutionise business; drastically cutting down on the time spent monitoring, repairing and protecting computer systems, because AI will learn to do it by itself.
So, to bring his idea to a wider audience, Timothy, who's the chief executive of Dot AIN, headed to this year's Future in Review (FiRe) conference.
Set in the lush grounds of a posh hotel in California's Orange County, about an hour's drive south of Los Angeles, the annual FiRe gathering brings together some of the brightest minds in the United States and beyond.
There is little doubting Timothy's credentials. At just 18, he did so well in Microsoft's entrance tests that they thought he must be cheating. He joined the software giant as a senior architect and director, and his expertise has been sought out by Wall Street banks and government agencies.
But he describes himself as an inventor, an ideas man. So, how did he turn his vision into a viable business?
Believe
For Timothy Mitchell the first step is getting over the fear of the future.
"I have seen thousands of ideas die on the vine, because the individuals that have them never get over that fear of failing," he says.
To pursue his dream, he gave up a directorship at Microsoft and put his money where his mouth is. He cashed in some of his assets, including the savings he was putting away for his retirement.
Taking an idea down the path towards being a profitable business is risky, but being fully aware of the risks is key.
"You have to understand what the worst-case scenario is and be comfortable with that," he said. "For me, the absolute worst scenario was, I'd spent what I'd built up and I'd have to go back to work. Once you understand that, it's much easier to get over that initial fear of starting."
Jon Myers, the founder and chief executive of Graphene Technologies, a company that makes the highly flexible yet strong material graphene from carbon dioxide, agrees.
But he also adds that the desire to bring an idea to market needs to be tempered with a degree of realism and common sense.
"Never put yourself in a position where you're risking your family and risking putting food on the table," he said. "I've seen a number of people go there and lose it all. Family and everything."
Team up
There's also the issue of finding a partner. Having an idea is all well and good, but communicating that idea to potential investors and customers is paramount.
John Petote is an angel investor who has put his money into over 50 start-ups over the past 15 years.
At the conference he's known as a FiRespotter, usually a seed capital investor who invites an ideas person (a FiRestarter) to come to the event.
For him, the people who have both brilliant technical ideas and the know-how to turn them into effective businesses are rare. He points to the late Steve Jobs of Apple as the outstanding example of this.
"When I talk to a technical person who has a great idea, I like to see that they're bringing a partner in who has more of a business side to them.
"The technical types can be so enthusiastic about their idea that they forget to do market validation," he adds.
Timing is also crucial. If an idea is deemed as being "years ahead of its time", by definition it cannot be commercially viable. This, of course, is more a refection on the market place than the idea itself, says Jon Myers.
"What I've learned through painful successes and painful failures is that the new idea is rarely right on time - the new idea is either far too early or far too late."
"But if you have a book inside you, are you going to decide I can't write this book because my audience isn't there? No. You're going to write the book. That's part of the creative process," he adds.
Be patient
While timing is important, time itself is equally so. When asked how long their ideas had taken to become established business, the overwhelming answer from the entrepreneurs gathered at FiRe was "longer than expected".
"Every business I've founded, I thought would be successful within three years. Absolutely none of them were successful within three years," said Jon Myers, "It's always taken twice as long, three times as long, as I imagined it would."
This brings up the dilemma of when to let go. This doesn't just apply to the situation early on in the process when the idea is simply not positively received by either potential customers or possible investors.
When an idea evolves into a business, it changes into something that has dynamism of its own, and moves further away from the original creator. Timothy Mitchell knows this from experience.
"People see companies almost like they see their children. And there comes a point in time when you're building a company where it has to move off and develop on its own," he says.
"It's going to take on its own life and there's going to be pieces in it that make their own decisions. I had to back myself off at times"
Terrible odds
Plus, of course, it's a numbers game.
Of the millions of ideas that people have each year, only a tiny fraction are developed and an even smaller fraction of those ever start down the road to becoming highly successful businesses.
A recent study from economic think tank the Ewing Marion Kauffman Foundation found that on average, of the thousands of technology start-up companies that come into existence each year in the United States, between 15 and 20 of them one day end up with $100m worth of sales.
This appears to be a pretty constant rate. The report's author, Paul Kedrodsky, says: "The pace at which the United States produces $100m companies has been surprisingly stable over time, despite changes in the nature of the US economy."
But the high rate of failures has never put off any of the delegates at the FiRe conference. Here they equate ideas with a deep-seated urge to solve problems.
As such, they all agree that an idea will not get off the ground if there's a lack of passion.
Timothy Mitchell is adamant on this point. "Never try to start a company with something you don't like, because it will never go anywhere. Only do something that you truly enjoy."