Marks and Spencer profits fall as clothing disappoints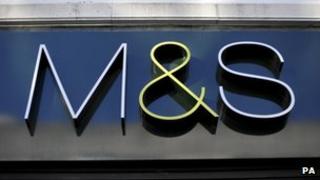 Marks and Spencer has reported a big fall in profits, despite rising sales across the group.
Pre-tax profits fell to £564.3m, down from £658m last year, despite group sales rising 1.3% to £10bn for the year to 30 March.
While underlying sales of food rose 1.7%, sales of general merchandise - which includes clothing - fell 4.1% in the year.
Chief executive Marc Bolland described the market as "challenging".
M&S's clothing division, which has an 11% market share in the UK, has been struggling in recent years as sales have fallen.
In April, director of lingerie and beauty Janie Schaffer, who joined M&S from lingerie chain Victoria's Secret, left after just three months in the job.
In an effort to address its problems, M&S last year changed its retail team, bringing in Belinda Earl, a former chief executive of both Debenhams and Jaeger, as head of style. Last week it launched a new autumn/winter clothing collection, which it hopes will win back disaffected customers.
'Improve quality'
Speaking to BBC Radio 4's Today programme, Mr Bolland said: "We won't duck the fact that we feel we have underperformed in general merchandise.
"We have to improve on quality", he added.
Mr Bolland also defended the company's tax affairs in the wake of controversy over tax avoidance schemes.
There was "nothing fiscal" in the company's use of Ireland as a trading hub for its international e-commerce business, he said, as the country now handles more than 50% of online trade.
"M&S pays UK corporation tax on all the profits generated by UK sales", he said. "We contributed £800m to the UK tax authorities in 2011-12 - the 25th highest tax contributor in the UK."
He maintained that M&S paid more corporation tax than many other FTSE 100 companies of bigger size.
The company also said it had appointed Patrick Bousquet-Chavanne - currently M&S's corporate director of strategy implementation and business development - as its new marketing director. He will succeed Steven Sharp in July.
M&S said Mr Sharp had "played a significant role in shaping the M&S brand from the introduction of the 'Your M&S' branding in 2004 to numerous iconic advertising campaigns reinforcing M&S's quality, style and ethical credentials".
'Too risk averse'
M&S said that its international sales had risen by 4.5% over the past year.
Multi-channel sales, which include internet shopping, rose by 16.6% and now account for 13% of general merchandise sales.
About 3.6 million people visit the website each week, the company said, while in-store pick-up of online orders was proving increasingly popular.
Retail analysts Conlumino said that although international and online sales were growing, M&S needed to "focus firmly" on its UK business.
"On this 'home front' advancement is a little less encouraging and, in clothing at least, has seemed more like a gentle evolution than a radical reinvention," Conlumino said.
"We still believe M&S is nowhere near ambitious enough on the general merchandise front; in our view the company is too risk averse and is unwilling to break the mould of its traditional ways of doing business."