China 'cannot be free rider on trade'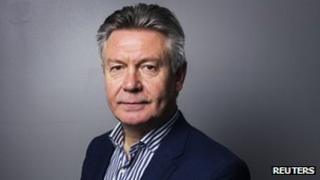 China cannot be a "free rider" in global trade, the EU's trade commissioner has warned.
Karel De Gucht said that China had to take responsibility for the global trading system, just as the EU did.
Mr De Gucht's comments come just days after the EU said it may investigate claims that Chinese telecom firms have been paid subsidies, allowing them to flood markets with cheap equipment.
The EU fears illegal payments may give Chinese firms an unfair advantage.
China is the EU's second biggest trading partner, after the US.
Probes
"China has become a very big economy and they have to take responsibility, just as we do, for the global trading system," Mr De Gucht told the BBC.
"Very important in taking responsibility for a global trading system is [to] follow a number of disciplines with respect to export credits, with respect to dumping, subsidies, cheap capital and so on and so on.
"You cannot be one of the biggest economies in the world and a free rider at the same time."
The EU is holding 18 trade investigations into China.
The largest inquiry to date is into whether China illegally dumped - unfairly subsidised - solar products. According to reports, Brussels plans to impose anti-dumping taxes of up to 68% on Chinese imports.
The EU has a deadline to impose these duties of 5 June.
Mr De Gucht was in New York to meet US businesses at a time when the EU is looking to strengthen its transatlantic trade ties.
Wide-ranging EU-US trade negotiations are expected to be launched later this year. The aim is to clinch a major free trade deal before October 2014.
He told the BBC that he expected regulation to be the biggest challenge for the negotiations.
"You have existing regulation, new regulation - how do you make it compatible?"
"I wouldn't call it a stumbling block but it's a big piece. It's also the most rewarding but it will ask for a lot of political resolve to do it."