Google: Eric Schmidt defends company's tax affairs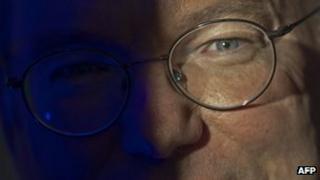 Google's executive chairman Eric Schmidt has defended the company's tax affairs after it came in for heavy criticism this week.
Mr Schmidt said Google "has always aspired to do the right thing", but added that "international tax law could almost certainly benefit from reform".
Writing in the Observer, he said he wanted "to move the debate forward".
On Thursday, Google executive Matt Brittin faced tough questioning from MPs on the Public Accounts Committee.
Mr Schmidt wrote: "At a time when families are having to tighten their belts and funding for vital public services is under pressure, corporation tax is rightly a hot topic."
But he emphasised that the tax treatment of multinational companies with a global presence was very complicated.
International tax law might need reforming, and he looked forward to seeing a forthcoming report by the Organisation for Economic Co-operation and Development on how to make the rules simpler and more transparent.
'Responsibility'
But he said: "Change won't be easy because it will require the renegotiation of international tax treaties, not just action by individual nation states."
However, also on Sunday, Labour leader Ed Miliband said he will write new rules to tackle tax avoidance if he wins the next election, even without international agreement.
Mr Miliband said it was up to politicians to change the laws on taxes, but they also had a responsibility "to talk about the kind of society we want to create and what the responsibilities of a company like Google are".
Prime Minister David Cameron will try to secure an international deal on new tax structures at the G8 summit next month.
Google, Starbucks and Amazon are among several large companies to face criticism over the amount of corporation tax they pay.
'Dirty word'
Google's sales in the UK are worth £3.2bn, but most are routed through Dublin. In 2011 it paid £6m in UK corporation tax.
Mr Schmidt wrote in his Observer article: "While profit has become something of a dirty word, it's important to remember that many corporations reinvest their profits in research and product development, which in turn tends to lead to job creation, further economic growth and, ultimately, more tax.
"For example, Google has just announced plans to invest more than £1bn in new offices in London's King's Cross. It's been estimated that this investment will generate some £80m a year in new employment taxes and £50m in stamp duty.
"This is in addition to the significant amounts we already pay in UK tax through corporate, local and employment taxes."