All dressed up: Luxury labels head to South East Asia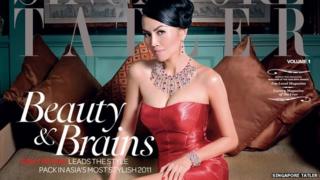 Rany Moran is the kind of high-spending customer that Europe's luxury fashion brands are looking to court.
The Indonesian businesswoman based in Singapore runs a television station, manages her family's property development business and has a social calendar that demands a large wardrobe full of designer ballgowns and smart Dior suits.
"There is always an expectation that you wear something new and a style which people have not yet seen you in. This obviously becomes an expensive activity.
"Unfortunately with most great items, you only get to wear it two or three times before society starts judging you for wearing something you love."
She doesn't keep tabs on how much she spends, but she estimates that her collection of handbags and ballgowns is worth hundreds of thousands of dollars.
What is significant about Mrs Moran, apart from her spending power, is where she is from - or rather not from.
She hails, not from China - which has seen extraordinary growth in recent years - but from South East Asia, where the growth in luxury goods sales is expected to be the fastest in the world this year.
Debut
Take Singapore, for example. Boasting the most millionaire households per capita in the world, designers are taking this once staid city far more seriously.
From a celebrity-packed showing of luxury brand Chanel's cruise collection, to the opening of the city's annual fashion festival, the island saw more famous designers descend on its shores in a single week in May than ever before.
A Scottish castle, the Palace of Versailles and other exotic settings have been the locations of Karl Lagerfeld's extravagant Chanel shows in the past, but the decision to hold it in Singapore was a calculated one, according to Bruno Pavlovsky, Chanel's President of Fashion.
"We see a double-digit development here in the region, that's why we've decided to organise this major event, our first event of this level in South East Asia."
Serious hub
Carolina Herrera and her collection of vintage-inspired dresses opened this year's Audi Fashion Festival, an event where famous names such as Zac Posen and Roberto Cavalli have shown their designs in the past.
"It's my first trip to Singapore. I have been invited for this fashion festival but also to open my boutique.
"Asia has always been on my mind," she told BBC News. "I think it is very important for us."
Her limited-edition range of orchid-embroidered handbags made specially for the Singapore store and priced at around US$2,000 practically sold out in a single evening.
For British handbag designer, Anya Hindmarch, who was also here promoting her products, Singapore is an important gateway to the rest of the region, which includes the emerging markets of Malaysia and Indonesia.
"In Singapore, you've got this amazing hub, this serious financial city," she says. "It's on the water, it's an amazing place, an escape and has a great customer base. There are not many big important cities like this one."
The region of South East Asia is expected to drive growth in the luxury market in Asia this year. Analysts at Bain and Co predict that luxury goods sales will grow by 20% in 2013.
'Dusty old Europe'
By contrast, growth in the Greater China area (which also includes Taiwan and Hong Kong) is expected to be a strong, but far less glittering, 6% this year.
Luxury conglomerates LVMH, PPR and Richemont reported sluggish growth in China in the past few months. This was mainly due to a Chinese government clampdown on corruption which has hit spending on luxury gifts, as well as weakening economic growth.
"South East Asia is on the up," says Lorna Hall from WGSN, a consultancy that advises fashion retailers.
"A lot of the economies are growing, and that is the catalyst for many businesses to look at these markets and think what's there for us? What should we be planning for? They have a long term focus on the market."
This is great timing for the European fashion houses whose home market is flat.
"Europe is doing a bit less, but we are doing quite well… in Asia," said Chanel's Bruno Pavlovsky.
"We are developing all these countries, so we can compensate part of what we are not doing in Europe by all these new countries."
Chanel's artistic director Karl Lagerfeld summed up the feeling about the region, somewhat more stylishly.
"This place is important for everybody. The future of the world is more around here than in dusty old Europe."