RBS to cut a further 1,400 jobs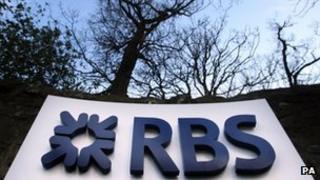 Royal Bank of Scotland (RBS) is to cut a further 1,400 jobs from its retail banking head office over the next two years.
Most of the job losses are expected to be at RBS's offices in Edinburgh. RBS said no customer-facing staff would be affected.
RBS has already announced more than 35,000 job cuts since it was bailed out following the financial crisis.
The government still owns more than 80% of the bank.
Ross McEwan, the chief executive of RBS's UK retail operations, said: "To serve our customers well, we have to ensure that our resources are focused on the things that matter most to them.
"Regrettably, we can only do that by restructuring the way we work in head office, so that every effort is concentrated on supporting our customers and the frontline staff that serve them.
"This is clearly difficult news for our staff and we will do everything we can to support them, including seeking redeployment opportunities wherever possible to ensure compulsory redundancies are a last resort."
The Unite union described the cuts as "brutal".
RBS's retail head office division currently employs 3,200 people. Of these, 40% are based in Edinburgh, while the second largest centre is in London.
The bank said up to half of the planned job cuts were likely to be made in Edinburgh.
Affected roles include marketing, communications and other support functions.
RBS said this announcement took the number of job cuts announced since its 2008 bailout to 38,900.
Earlier this month, RBS reported a return to profit after racking up big losses last year.
Its chairman, Sir Philip Hampton, said the bank might be ready to return to the private sector in 2014, following a huge restructuring programme that includes winding down the investment banking operation.