Eurozone recession continues into sixth quarter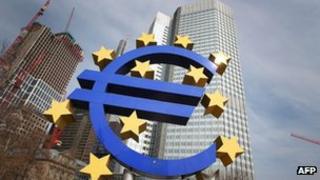 The recession across the 17-nation eurozone has continued into a sixth quarter, figures show.
The bloc's economy shrank by 0.2% between January and March, according to official figures.
That left the region's economy 1% smaller for the period compared with a year ago.
Individual data for member countries showed nine were in recession, although Germany recorded weak growth of 0.1% in the period.
The figure marks the longest recession since the euro was launched in 1999.
It was worse than the 0.1% fall expected by economists, although gross domestic product (GDP) numbers, like other economic statistics, are subject to revisions.
Severe
The weak state of so many economies in the eurozone has led to rising unemployment.
About 19 million people in the 340 million-strong eurozone population are without work, with unemployment in Greece and Spain running at 27% of the workforce.
In France, which figures show fell into recession for the second time in four years, unemployment is 10.6%.
The European Central Bank acted this month to try to boost growth by cutting interest rates to 0.5%, a record low.
Europe's leaders have been trying to rein in debt by introducing austerity programmes of varying levels of severity.
The continuing level of economic pain has prompted debates about whether or not these programmes have the effect of further restricting growth,