EU raids on oil firms raise petrol prices worries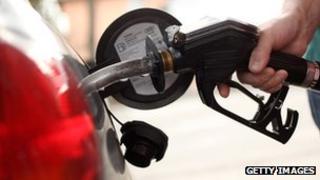 MPs and motoring groups have called on UK regulators to investigate claims that oil giants may have been linked to price-fixing for more than a decade.
It follows a raid on the offices of BP, Royal Dutch Shell, and Norway's Statoil by European anti-trust regulators.
The companies said they were cooperating with investigators.
The RAC said that the claims were "worrying news for motorists", while Tory MP Robert Halfon said drivers were being taken for an "expensive ride".
European Commission officials said its investigators made the "unannounced inspections" on Tuesday amid concerns that "the companies may have colluded in reporting distorted prices".
It did not name the firms, and emphasised that the raids did not mean the companies were guilty of any charges.
But BP, Shell, and Statoil, and also the oil pricing agency Platts, confirmed that they were working with the authorities in their inquiries.
"Even small distortions of assessed prices may have a huge impact on the prices of crude oil, refined oil products and biofuels purchases and sales, potentially harming final consumers,'" the Commission said.
As part of the investigation, the Commission said it was examining whether the companies may have prevented others from participating in the pricing process "with a view to distorting published prices".
It added: "Any such behaviour, if established, may amount to violations of European antitrust rules that prohibit cartels and restrictive business practices and abuses of a dominant market position."
RAC technical director David Bizley said: "The Office of Fair Trading inquiry concluded at the end of January that the UK fuel market was operating fairly and not against the best interests of motorists, and therefore that a Competition Commission investigation was not needed.
"Motorists will be very interested to see what comes of these raids," he said, adding that there was a need for greater transparency in the UK fuel markets.
Mr Halfon, MP for Harlow, told the BBC that the OFT must look again at the fuel market.
'A need to know'
Shadow energy and climate change secretary Caroline Flint said: "These are very concerning reports, which if true, suggest shocking behaviour in the oil market that should be dealt with strongly.
"When the allegations of price fixing in the gas market were made, Labour warned that opaque over-the-counter deals and relying on price reporting agencies left the market vulnerable to abuse.
"These latest allegations of price fixing in the oil market raise very similar questions. Consumers need to know that the prices they pay for their energy or petrol are fair, transparent and not being manipulated".
Platts, which compiles prices for energy markets, said it was "co-operating fully with the European Commission's review."
BP said in a statement: "We are co-operating fully with the investigation and are unable to comment further at this time."
A Shell spokesman added that it was "fully co-operating" with investigators.
Statoil, which confirmed its Norwegian headquarters had been inspected, said the suspected violations "related to the Platts' Market-On-Close price assessment process" and "may have been on-going since 2002".