Fitch upgrades Greece credit rating on financial progress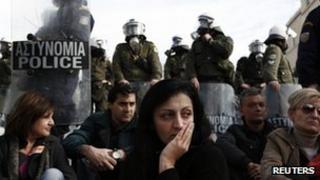 Ratings agency Fitch upgraded Greece's credit rating, citing progress in cutting its budget deficit and the risk of a eurozone exit receding.
Fitch up-rated Greece by one notch from CCC to B-, which is still junk status.
But Greece, seen by many last year as likely to leave the eurozone, recently won praise from the International Monetary Fund for progress in putting its finances in order.
Fitch also forecast a milder recession in Greece this year.
The agency said that problems remain and recognised the unpopularity of austerity measures being pushed through by the government.
Fitch said: "The price has been high in terms of lost output and rising unemployment and the capacity for recovery is still in doubt.
"Nonetheless, sovereign debt relief and an easing of fiscal targets have lifted central bank measures of economic sentiment to a three-year high and the risk of eurozone exit has receded."
The Fitch move comes after Standard & Poor's also raised Greece's rating to B-minus with a stable outlook from selective default in December.
Tax evasion
The third big ratings agency, Moody's, has a C rating on the credit. All three ratings are still deep in junk territory, however.
Fitch said it expected Greece to have a milder recession this year of 4.3%, and a weak recovery in 2014.
The country is in its sixth year of recession and unemployment has topped 27%.
On Tuesday, Greek borrowing costs fell to their lowest since April 2011 in a sale of 1.3bn euros (£1bn) worth of government Treasury bills.
Last week, the IMF said that debt-laden Greece has made "exceptional" progress in improving its finances. But the IMF said that Greece must do more to tackle its "notorious" tax evasion problem.