Oil company offices raided in EU pricing probe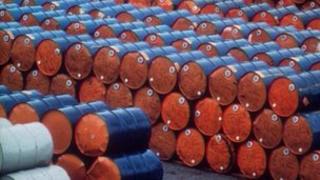 The offices of several firms involved in the oil market have been raided by European Commission officials.
The commission said it had concerns that "the companies may have colluded in reporting distorted prices".
It did not name the firms, and said the raids did not mean the companies were guilty of any charges.
BP, Royal Dutch Shell, Norway's Statoil and the pricing agency Platts confirmed that they were working with the authorities in their inquiries.
The investigation relates to the pricing of oil, refined products and biofuels.
"Even small distortions of assessed prices may have a huge impact on the prices of crude oil, refined oil products and biofuels purchases and sales, potentially harming final consumers,'" the Commission said.
As part of the investigation, the Commission said it was examining whether the companies may have prevented others from participating in the pricing process "with a view to distorting published prices".
It added: "Any such behaviour, if established, may amount to violations of European antitrust rules that prohibit cartels and restrictive business practices and abuses of a dominant market position."
The EU called the raids "unannounced inspections". They are seen as a preliminary step in an investigation into suspected anti-competitive practices.
Statoil, which confirmed its Norwegian headquarters had been inspected, said the suspected violations "related to the Platts' Market-On-Close (MOC) price assessment process" and "may have been on-going since 2002".
Platts, which compiles prices for energy markets, said the European Commission had visited its London operations on Tuesday. "Platts is co-operating fully with the European Commission's review," it added.
BP said in statement: "We are co-operating fully with the investigation and are unable to comment further at this time."
A Shell spokesman added that it was "fully co-operating" with the investigation.