Australia forecasts budget deficit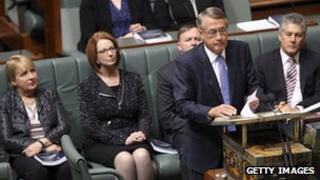 The Australian government is forecasting a deficit for its current financial year, despite promising a surplus a year ago.
Unveiling his budget, Treasurer Wayne Swan said the deficit would be 19.4bn Australian dollars (£12.6bn; $19.2bn).
Much of the shortfall is due to a slowdown in the mining boom, which has sustained the economy in recent years.
Mr Swan also announced increased spending on defence and foreign aid.
The budget predicted a smaller deficit next year and a return to surplus in 2015.
Australia's central bank predicted economic growth of 2.5% for 2013.
Slower cuts
A year ago Mr Swan had predicted a A$1.5bn surplus for the current financial year.
Addressing the Australian parliament in the capital Canberra, he defended his government's decision not to take the path of serious austerity in an effort to balance the nation's books sooner.
"To those who would take us down the European road of savage austerity, I say the social destruction that comes with cutting too much, too hard, too fast is not the Australian way," he said.
"Cutting to the bone puts Australian jobs and our economy at risk, something this Labour government will never accept."
Demand for the country's raw materials has kept the economy buoyant in recent years. But analysts expect the mining boom to peak this year and the prices of several commodities are already falling.
A 30% tax on iron ore and coal miners' profits above a certain level was supposed to raise A$3bn this year. The latest estimate shows that the tax will only feed A$200m into the nation's coffers this year and A$700m next year.
Government spending in Australia has been increasing since 2009, with an initial flurry at the height of the financial crisis which was aimed at keeping the country out of recession.
Defence spending is growing, despite the fact that Australian troops are being withdrawn from Afghanistan, East Timor and the Solomon Islands.
Defence spending over the next four years is now planned to be A$113bn. A year ago that figure was A$103bn.
Australia will also increase its foreign aid spending by 9.6% from the current year to A$5.7bn next year.
Nonetheless, ratings agency Moody's was unperturbed by the further delay in returning to surplus and kept the country on the top-notch triple-A rating with a stable outlook.
"Although the government budget is now forecast to remain in deficit through the 2014-15 fiscal year, the projected deficits are relatively small as a percentage of GDP," said Steven Hess, senior vice president at Moody's.
The budget is predicted to be the last by the centre-left Labour Party government, which is expected to lose elections in September.