US retail sales inch up in April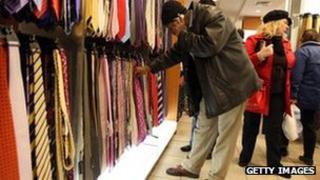 US retail sales rose unexpectedly in April, after falling back in the previous month.
The Commerce Department says retail sales crept up 0.1% during the month, after a 0.5% fall in March, which had been the largest in nine months.
And excluding petrol station sales, retail spending rose by some 0.7%, suggesting consumers are increasing their spending.
Consumer spending accounts for two-thirds of US economic activity.
Core sales, which strip out cars, petrol, and building materials and correspond most closely with the consumer spending component of gross domestic product, increased by 0.5%.
The increase in core sales comes on top of relatively strong jobs data in the past three months.
"Consumer spending looks to have started the second quarter off on a solid note," said Jennifer Lee, a senior economist at BMO Capital Markets.
Car sales were up 1% in April, while clothing sales rose 1.2%. Sales at general merchandise stores, a category that covers department stores, increased by 1%.
Sales were also healthy at building materials and garden supply stores, as well as electronics and appliance stores.