Betfair waits to see if CVC will increase takeover bid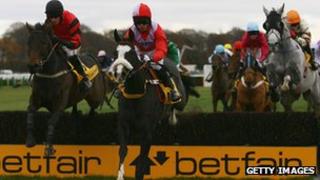 The deadline is looming for CVC Capital Partners and other investors to put forward a fresh bid for online betting exchange Betfair.
The UK's Takeover Panel has set Monday as the cut-off point for CVC to either raise their initial bid of 880 pence per share, or withdraw.
In April Betfair rejected that £912m takeover approach, saying it "fundamentally undervalued" the firm.
Last week the company gave an update on its strategy for the business.
"A new management team is in place and a wide ranging restructuring has been completed ahead of schedule, allowing us to increase our cost savings substantially," Betfair chief executive Breon Corcoran said last week.
Cost savings of about £23m have been achieved by reducing the workforce by 500 people, or roughly one-fifth.
Betfair said that estimated revenue for the financial year which ended on 30 April was about £387m.
Its exchange processes more than seven million transactions a day. Its shares were originally floated at £13, and closed up by 2.63% on Friday at 898 pence.
The preliminary proposal from CVC and other investors - including Richard Koch and Antony Ball - offered 880 pence per share in cash or an "unlisted securities alternative made up of shares and loan notes in a new entity".
Mr Koch, a co-founder of LEK Consulting, holds a 6.5% stake in Betfair. Mr Ball is a non-executive director at Luxembourg-listed investment group Brait.