Economy debate counter-productive, says ONS chief economist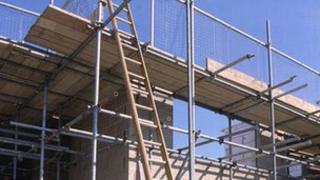 The chief economist at the Office for National Statistics has criticised the "counter-productive" public debate about the economy.
Joe Grice's comments came after it emerged that the so-called double-dip recession may never have happened.
This was based on the latest ONS figures which suggested that the construction sector contracted less than originally thought in early 2012.
Statistics due out next month will clarify the situation.
The figures prompted analysts to say the revision may be enough to mean the overall economy narrowly avoided falling into recession for a second time.
Broad trends
But on Saturday, Mr Grice told BBC Radio 4's Today programme that "we didn't get our sums wrong", and explained that the statistics were subject to revision when new information became available.
He criticised the focus on talk of a "double-dip" and "triple-dip" recession - defined by the economy contracting in two consecutive quarters - saying the longer-term trend was more important.
"As an office we think the public debate has been quite counter-productive.
"We think it is much more important to look at what has been happening to the broad trends in the economy over a period of time," Mr Grice said.
"Over the last two or three years we have grown on average by around about half a percent a year, quite a bumpy path, clearly very different from what was happening before 2008.
"That all seems to us to be more important, much more salient in terms of having a sensible debate than really whether one particular quarter was up a smidgen or down a smidgen."
Mr Grice added: "We think the public debate would benefit from spending more time looking at what is really happening to those trends over time, than worrying about small changes in particular quarters."
The revised figures show the construction sector shrank by 5% in the first three months of 2012, less than the 5.4% contraction initially reported.
The ONS gives its final estimates for growth in June, and if other parts of the economy remain unchanged, the economy as a whole would register zero growth, rather than a contraction of 0.1%.
The economy needs to register two consecutive quarters of negative growth to be in recession.