Workers' pension pots 'saved from consultancy charges'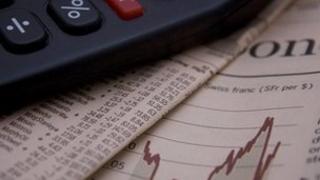 Workers automatically enrolled into a workplace pension will not see their pension pot reduced by charges from consultants, under government plans.
Pensions Minister Steve Webb has announced proposals for a ban on consultancy charges for auto-enrolment schemes.
At present, firms can give advice to employers but take their fees from employees' pension pots.
Concerns were raised that this would hit the low-paid.
The move comes as the Department for Work and Pensions (DWP) published the Pensions Bill - outlining, in detail, plans to overhaul the state pension.
The government has also announced it will publish proposals in the autumn for a cap on other pension fees that are charged to those with defined contribution pensions which they are automatically enrolled into by their workplace.
The size of pension pots in this type of pension is determined by contributions and investment returns.
Pension savings
The auto-enrolment pensions project started in October and is aimed at ensuring all workers have some provision for their retirement.
Millions of workers in the UK will gradually see a slice of their pay packet being automatically diverted to a savings pot for their pension. Employers are obliged to pay in as well, with the government adding a little extra through tax relief.
Those who already save in a workplace pension scheme or are self-employed will not be signed up.
However, a mystery shopping exercise by consumer group Which? found that some insurance companies were charging £400 to £450 for the first year and then ongoing annual charges for consultancy services to employers. This was being taken from the workers' pension pots.
The government said regulations banning such charges would be put to Parliament "as soon as possible".
"With millions of people taking up pension saving for the first time under automatic enrolment, we have to give people confidence that they will get good value for money," said Pensions Minister Steve Webb.
Reputation
Pensions expert Ros Altmann said: "Consultancy charging was a huge scandal in the making and it is entirely right that this practice should be outlawed. Of course, it would have been far better if it had never been allowed in the first place.
"Regulators were allowing their pension funds to be raided to pay fees to 'consultants' who advised their employers on which scheme to choose for auto-enrolment. Although the workers foot the bill, they receive nothing in exchange.
"Worse still, because the advice is being given to the employer and not individuals, these consultants are not even required to have the standard qualifications and are not covered by the normal regulatory protections."
Tim Jones, chief executive of Nest - a pension scheme for automatically enrolled workers - said: "We were concerned that consultancy charging could have been detrimental to specific groups of customers and, more generally, damage the reputation of automatic enrolment. We welcome that potential being removed."
But Steve Gay, of the Association of British Insurers, said that the ban could reduce the availability of advice and support to employers.
And James Colegrave, of financial firm Towers Watson, said that many charges would be unaffected by the proposed ban.
"In the past, some pension providers felt they needed to pay commission to advisers to win business from employers who did not want to pay for advice themselves," he added. "Charges paid by members would be lower today if providers did not need to claw this money back."
The Pensions Bill, also published by the DWP, confirms plans to introduce a flat-rate state pension of £144 a week for new pensioners from April 2016.
It also plans to bring forward the increase in the state pension age to 67 to 2026-28, as previously announced, and for a regular review of the state pension age.