Rise in homes repossessed by lenders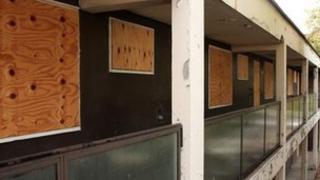 The number of UK homes repossessed in the first three months of the year rose slightly compared with the previous quarter, lenders have said.
There were 8,000 properties repossessed in January to March, up 300 on the last three months of 2012.
But the Council of Mortgage Lenders (CML) said that this rise matched usual seasonal factors.
The number of homes being seized by lenders has been falling in recent years as interest rates stay low.
Arrears 'stabilising'
Homes are repossessed if householders fall well behind on mortgage payments and lenders see no prospect of the bill being paid.
The number of people falling behind on payments was unchanged compared with the first and last quarters of 2012.
However, there were 1,600 fewer homes seized by lenders in the first three months of the year than the same quarter of last year, the CML said.
"Mortgage arrears and repossessions have stabilised at levels lower than many anticipated when the economic downturn started," said Paul Smee, of the CML.
"Low interest rates, continuing employment, lender forbearance and tactical public policy support have combined to ensure that repossession really is a last resort."
The CML said it was sticking with its forecast that 35,000 homes would be repossessed in 2013, a slight increase on the 33,900 repossessed last year.
Lenders and debt charities have urged anyone who faces difficulties in making mortgage payments to seek help early.
"Anyone who is worried about their mortgage can be assured that, as long as they take steps early to address them, most problems can be contained," Mr Smee said.
"Lenders very much want to enable people to stay in their homes wherever they have sustainable prospects of getting their mortgage back on track."
Low rates
Repossession figures peaked in 2009 when there were 48,900 homes seized over the course of the year. There are 11.3 million mortgages outstanding in the UK.
The numbers have fallen since 2009 owing to the record low level of interest rates. The Bank of England has held the Bank rate at 0.5% for more than four years, and lenders have been competing for relatively few buyers by offering low mortgage rates.
In addition, lenders have been under pressure not to repossess properties unless it is genuinely a last resort. They must do a considerable amount to convince the courts that they should seize a borrower's home.
"Debt and repossession levels are relatively stable at the moment but with the economy struggling to get going and bills on their way up, its is clear that we will be in uncertain times for a while yet," said Bev Budsworth, managing director of the Debt Advisor.