Slovenia unveils reforms as it seeks to avoid EU bailout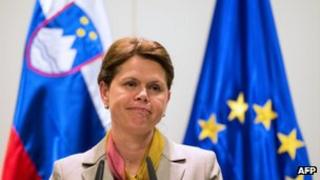 The government of Slovenia has announced a package of measures it hopes will help avoid an EU bailout.
The measures include a tax increase, a major restructuring of Slovenia's ailing banking sector, and a programme of mass privatisation.
Slovenia's mostly state-owned banking sector is suffering from mounting bad debts and the government has struggled to borrow money.
The European Commission will now consider the plan.
It is expected to deliver its verdict by the end of the month.
Slovenia has been in recession since 2011, and analysts have cited it as the most likely country to seek help from the EU following the bailout of Cyprus earlier this year.
European officials have expressed concern over the stability of the country's banking sector, which is struggling under billions of euros of bad debts.
Meanwhile the government's ability to borrow money was dealt a blow last week when Moody's, a ratings agency, cut Slovenia's bonds to "junk" status.
Despite this, the government was able to raise 3.5bn euros (£3bn; $4.6bn) from international bond markets last week, which has bought it some time.
State sell-off
The package of measures was announced by Slovenia's recently installed Prime Minister, Alenka Bratusek, and her Finance Minister, Uros Cufer.
The measures include a 2% increase in VAT to shore up government finances.
A "bad bank" will also be created to allow the banking sector to offload its bad debts.
Meanwhile a total of 15 publicly-owned businesses will be sold off, including the second biggest bank, Nova KBM, the flag-carrying airline, Adria Airways, and Telekom Slovenia.
The biggest bank, NLB, has already announced plans to downsize.
Announcing the measures, Ms Bratusek said she expected the budget deficit to rise to 7.8% of GDP this year, but was forecast to fall to 3.3% next year.
She also said the VAT increase was decided on as the tax rise with the least impact on economic growth.
Slovenia is seeking to avoid becoming the latest in a string of EU countries to seek a bailout from European authorities.
Earlier this year Cyprus agreed a 10bn euro bailout with the EU and the International Monetary Fund (IMF) after its banking sector faced near collapse.