BT offers free Premier League football in BSkyB battle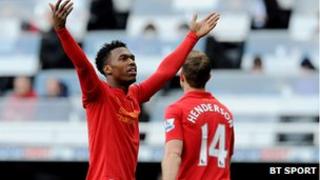 BT is to offer free Premier League football coverage to its broadband customers, the telecoms company says.
The announcement is a signal of BT's intent to challenge BSkyB's dominance of the UK's sports pay-TV market.
BT won a three-year deal to show 38 Premier League games a season, beginning this year.
BT has 6.3 million broadband customers, but just 750,000 pay-TV customers, compared with Sky's 10 million subscribers.
BSkyB's shares closed more than 6% lower in London, after BT unveiled its plans.
BT's move is an attempt to establish itself as a major multi-platform provider, offering TV, internet and telephone in one package.
It will provide all of its 38 Premier League games free to broadband customers, including 18 "first pick" matches, on three channels: BT Sport 1, BT Sport 2 and ESPN.
'Fans the winners'
Broadband packages on BT will cost from £10 a month.
But customers who want to access the sports channels will also need to pay for a set top box, or pay an extra £5 per month for the basic television package.
That compares with Sky's offer of 116 Premier League matches, as part of a six-channel sports package that costs £42.50 per month for the first six months, and includes broadband internet.
BT Sport's channels will also show 69 live Aviva Premiership rugby matches per season, plus live football from leagues in Germany, France, Italy and Brazil.
Chief executive Ian Livingston said: "UK sports fans have had a rough deal for too long. Many have been priced out of the market, but we will change this by giving away BT Sport for free with our broadband.
"Sports fans are the winners today."
BSkyB dominates the pay-TV market with about 10 million customers, but lags behind BT with 4.3 million broadband customers.
BT Sport is also taking on BSkyB in pubs and clubs, with an offer of 12 months' subscription for the price of nine, and a free installation offer lasting until 1 July.
About half the premises taking up the offer will end up paying £135 a month, BT said, while packages for hotels and betting shops could undercut Sky by 75%.
Analysts say the entry into the market by BT represents a serious challenge, despite Sky's success in fighting off previous competition from the likes of ITV Digital, Setanta and ESPN.
"Compared with the others BT is in a much stronger position because it has a massive number of customer relations already," said Toby Syfret, a television market analyst at Enders Analysis.
"This is a major player matching the scale of Sky coming in - we haven't had that before."
But he also warned that BT would be limited in terms of the matches it has available.
The majority of BT's highest profile games are scheduled for Saturday lunchtimes, while Sky's games are scheduled for Sunday afternoons, when audiences are significantly higher.