UK industrial output beats forecasts, official figures show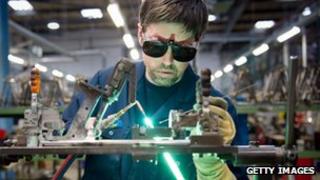 UK industrial production was stronger than forecast in March, official figures show, boosted by manufacturing and a recovery in oil and gas output.
The Office for National Statistics said industrial output rose 0.7% in March from February, above the 0.2% expected by economic forecasts.
Manufacturing output, a sub-sector of industrial production, rose 1.1%, boosted by electronics, metals and machinery.
But annual output was still 1.4% lower.
The extended period of cold weather help the electricity, gas steam and air conditioning sectors achieve 2.4% growth in March.
Lee Hopley, chief economist at the EEF manufacturers' organisation, said: "Manufacturing looks to have had another good month in March with the data pointing to encouraging gains across the board, with almost all sectors posting some growth and on-going strength in transport and electrical equipment sectors."
But she warned that "a smooth recovery path is not assured" while uncertainties remained over likely levels of demand.
Howard Archer, chief UK economist at IHS Global Insight, said the "much stronger-than-expected" output figures add to "the recent improved news on the UK economy and boosts hopes that activity is gaining a firmer footing.
"The services sector remains key to the economy's performance but any help from the manufacturing sector would go down nicely," he said.