Foreign comedians stand up for the UK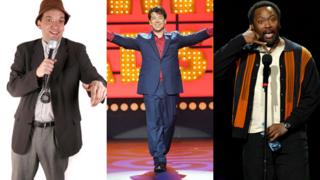 Top comedians in the UK can earn millions and it is now a destination for performers from all over the world. From club comedians to corporate performers, there is cash to be made from laughs.
Michael McIntyre's last live tour, Showtime!, made about £21m, and put him at the top of the comedy earnings tree. More than 600,000 fans filled venues in the UK and Ireland for his 71-date 2012 extravaganza, which included 10 gigs at the massive O2 Arena in London.
Although most comedians won't scale those dizzy heights, the promise of a stand-up career in the UK has lured many successful acts from overseas.
They are hoping to follow in the footsteps of German Henning Wehn and American Reginald D Hunter, successful comedians who are now based in the UK.
John Hastings, a 27-year-old professional comedian from Canada, came to London last year. He was making a comfortable living in North America, but traded that in for the uncertain, but potentially substantial, rewards on the British circuit.
The move was something of a culture shock when he first came to the UK.
"You're a funky artist in Canada," he says. "Here, it's like you're a tradesman, akin to being a plumber or a builder."
But that's not necessarily a bad thing.
"In Canada, it's a promoter's market, while in the UK, it's a performers market. So the promoters are making all the money in Canada, and in the UK the promoters are still making money, but the performers are getting a bigger slice and the market's more geared towards them."
Multiple gigs
Arena tours, and the popularity of television comedy shows such as Michael McIntyre's Comedy Roadshow and Live at the Apollo, have created a buoyant market for the live comedy industry. So what can a successful club comedian expect to earn?
James Woroniecki, owner and director of the London-based 99 Club, says headliners are paid £130 for a 20-minute slot at the weekend. Comedians often do two and even three gigs a night, which means fees can add up.
Lee Martin, founder of Gag Reflex, which books acts for the Frog and Bucket comedy venues in Manchester and Preston, says across the industry headliners can expect to earn between £200 and £350 a night, depending on the club.
But both promoters emphasise that money is not the only draw for overseas comedians.
"There are often fewer gigs in other countries, so it's harder to make a living if you aren't a TV comic," says Lee Martin. "The opportunities here in the UK are very rich, and success here can lead to success in other territories."
The general state of the UK comedy industry and the quality and diversity of comedy in the UK attracts foreign acts, James Woroniecki adds.
"The UK live comedy scene is much healthier than in the rest of the world. If you compare it to America, there are five times as many clubs here as in New York."
Appeal of tradition
Sofie Hagen, a 24-year-old comedian from Denmark, was beginning to establish herself on Danish television and was offered £300 to perform a 10-minute set at a corporate gig. But she turned down that kind of opportunity in order to move to London in September 2012.
Perhaps surprisingly, language has not proved much of a barrier. "I don't do wordplay," she says. "I talk about thoughts and feelings and that's universal."
And for Sofie, the chance to perform every night was a major draw.
"I can develop more in a week in the UK than a year in Denmark," she adds. "There's only one club there."
The British comedy tradition is also a draw. JoJo Georgiou, 44, from Dallas, says she was inspired by her comedy idols: "I grew up watching Monty Python and Benny Hill and I wanted to move over here to experience it."
JoJo's style of comedy reflects her Texan roots. Whereas in the US her act focuses on politics and topical issues, in the UK, JoJo gets her material from the cultural differences she has observed between the two countries.
"I play up to the fact I'm from Texas," she says. "Although at the beginning I had to learn to speak a bit more slowly as sometimes people didn't catch what I said."
A career in comedy is never plain sailing and very few acts will make anything approaching McIntryre's millions. But for comedians who do make the move from abroad, the depth and variety of the British stand-up circuit can make the effort worthwhile.
An earlier version of this story suggested that Lee Martin at Gag Reflex pays headliners between £200 and £350 a night. We have changed the story to clarify that Mr Martin was referring to the figures top acts can earn across the industry, not specifically at the gigs he works with.