UK house prices rise by 1.1%, the Halifax says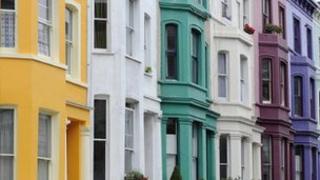 UK house prices rose by 1.1% in April compared with the previous month but activity in the market remained subdued, according to the Halifax.
The lender, part of Lloyds Banking Group, said that property values were 2% higher than a year earlier.
This meant the average UK home was valued at £166,094.
A dip in the number of mortgage approvals at the start of the year suggested that sales activity would not take off, the lender said.
"Weak income growth and continuing below-trend economic growth are likely to remain significant constraints on housing demand during the remainder of 2013," said Halifax's housing economist Martin Ellis.
Prices were 1.3% higher in the three months to the end of April than the previous three months, the survey found.
The annual change of 2% is higher than the figure recorded by the Nationwide Building Society. Its survey reported a 0.9% year-on-year increase and a 0.1% rise from March to April.
Both surveys are based on the lenders' own mortgage data.
'Polarised'
However, the year-on-year comparison is calculated slightly differently by the two lenders. The Halifax compares the previous three months with the same three months a year earlier to give a smoother comparison, rather than a direct comparison of the equivalent months as calculated by the Nationwide.
Various surveys have suggested that price rises have been driven by increases in London, with some other areas of the country seeing house price falls.
"Some regions of the UK remain under pressure. The market is still deeply polarised, with the increasing national average masking the huge divergence between London's surging prices and those in the North of England that are stuck in reverse," said Jonathan Hopper, managing director of property search consultants Garrington.
"Despite the improved market, buyers are still looking for value, and committed sellers need to be willing to negotiate on price if they want to secure a quick sale."