Deutsche Telekom, Telefonica profits defy weak sales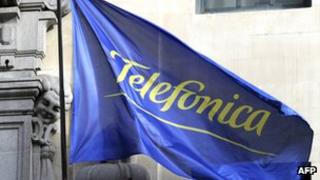 Deutsche Telekom and Telefonica saw profits rise in the first three months of 2013 despite weak sales in Europe.
Deutsche Telekom said net profit rose 3.5% to 564m euros (£477m) in January-March from a year earlier.
Telefonica said quarterly profits rose 21% to 902m euros year-on-year, a rebound from 2012 when it wrote down its stake in Telecom Italia.
But both telecoms giants suffered a fall in revenues, largely due to price wars as carriers vie for clients.
Telefonica, which owns the O2 brand, said revenue fell 9% to 14.1bn euros in the period compared to last year, with sales in Europe dropping 11%. Revenue from its key Latin American market was down by 4%.
Meanwhile, Deutsche Telekom said its quarterly sales fell 4.5% to 13.8bn euros from the previous year.
The German group's rise in net profit reflected smaller accounting-related reductions related to the merger of its T-Mobile USA unit with MetroPCS last month.
The merger, completed last month, is crucial to the company's efforts to turn around its business in the US, where it has lagged competitors.
In spite of weak demand in Europe, Deutsche Telekom has continued to invest in the region. Investment rose nearly 40% in the first quarter from last year to more than 3bn euros, which included the purchase of radio frequencies in the Netherlands.
Deutsche Telekom shares rose 3% in morning trading, but Telefonica's was down 1.73%.