China trade growth accelerates beating forecasts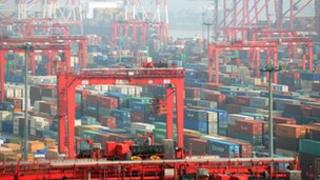 China's trade growth accelerated in April, beating analyst expectations, a positive sign for the country's fragile economic recovery.
Exports surged by 14.7% compared with a year earlier. That is up from 10% in March. Imports also rose by 16.8% up from 14.1%.
The data meant a trade surplus for China, reversing a surprise deficit in March.
However, some analysts raised questions about the accuracy of the data.
"I have no strong conviction whether the data reflect reality," said Zhiwei Zhang, chief China economist at Nomura in Hong Kong.
China had a bigger-than-expected trade surplus in April of $18.2bn, after a surprise deficit of $884m in March.
'Crack down'
In recent months Chinese export data has shown positive signs of a gradual recovery in external demand.
But that is not in line with other Asian exporter countries, such as South Korea and Taiwan, which have seen their export growth weaken amid slowing global demand.
Some analysts said they suspected that some Chinese exporters may be overstating their business to avoid capital restrictions on funds they are bringing into the country.
China, which keeps a tight grip on capital flows in and out of country, has announced fresh moves to control any illegal flows.
On Sunday, the State Administration of Foreign Exchange (SAFE), China foreign exchange regulator, said it would increase its scrutiny of export invoices and impose tougher penalties on firms providing false data.
Analysts said the move indicated that the practice had become a concern for them.
"China's SAFE recently launched new rules to crack down against capital inflows disguised as trade payments. I'm suspicious about the trade data," said Mr Zhang.
Delayed recovery?
Chins has been trying to boost its economy, after the recent slowdown in its growth rate.
The world's second-largest economy saw its annual growth rate slow to 7.7% in the January to March quarter, compared with 7.9% in the last three months of 2012.
However, analysts said that while there had been some signs of a recovery, it continues to remain a fragile one.
They pointed out to the purchasing managers' index (PMI) survey released last week, which showed that growth in China's huge factory sector slowed in April as new export orders shrank.
At the same time there have been doubts that growth numbers in the first quarter may have been inflated by the over-invoicing by exporters.
Some analysts said the data over the next few months will be a more accurate indicator of China's trade growth, and the overall health of its economy.
"With Beijing tightening checks on hot money inflows disguised as trade transactions, I think the export figures in the coming months will more reflect the real underlying momentum of external demand," said Shen Lan, an economist with Standard Chartered Bank in Shanghai.